Bill Crider's 24th Sheriff Dan Rhodes mystery, Dead, to Begin With, is due out Aug. 8. You can pre-order it through the Web Store. https://bit.ly/2sQQSA2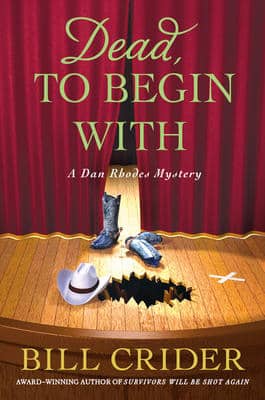 Here's the summary from the Web Store.
Sheriff Dan Rhodes is back again in Bill Crider's thrilling Dead, to Begin With.
Readers will cheer Rhodes along as he sorts through a tangle of old secrets and personal relationships en route to the satisfying solution." Publishers Weekly
In Clearview, Texas, a wealthy recluse has joined the community and is leading the restoration of an old opera house. When he falls to his death, Sheriff Dan Rhodes suspects that he's been murdered, but there doesn't seem to be a motive. Who would want to kill someone who's helping the town and hasn't been around long enough to make any enemies?
The Sheriff's suspicion proves to be true, however, and he begins to look for motives buried in the past, meanwhile having to deal with people fighting over baseball cards at a yard sale, writers who want to talk to him about his sex life, and the Clearview Ghost Hunters, headed up by Seepy Benton, who believes that the old theater is haunted. Clearview might be a small town, but there's no shortage of excitement.
*****
And, here's my favorite feature from Criminal Element, Adam Wagner's .GIFNotes Guide to Dead, To Begin With. https://bit.ly/2sQtqDj