Join us at The Poisoned Pen on Thursday, June 29 at 7 PM when Brad Thor returns to discuss his latest thriller featuring Scot Harvath, Use of Force.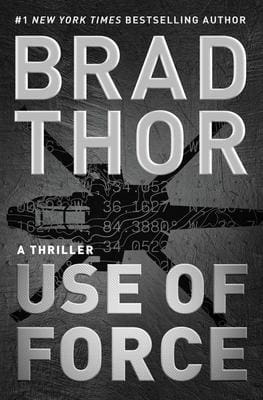 Here's the summary from the Web Store.
"With his latest pulse-pounding adventure, Brad Thor puts the rest of the genre on notice—Use of Force is the thriller to beat in 2017."—The Real Book Spy
From #1 New York Times bestselling author Brad Thor.
As a storm rages across the Mediterranean Sea, a terrifying distress call is made to the Italian Coast Guard. Days later, a body washes ashore.
Identified as a high value terrorism suspect (who had disappeared three years prior), his name sends panic through the Central Intelligence Agency.
Where was he headed? What was he planning? And could he be connected to the "spectacular attack" they have been fearing all summer?
In a race against time, the CIA taps an unorthodox source to get answers: Navy SEAL turned covert counterterrorism operative, Scot Harvath.
Hired on a black contract, Harvath will provide the deniability the United States needs, while he breaks every rule along the way.
Packed with pulse-pounding action, fascinating characters, and electrifying intrigue, Brad Thor does it again and proves why he is known around-the-world as the "Master of Thrillers."
*****
Even better than the summary is the interview on The Real Book Spy. https://bit.ly/2sMIXqN. Check out the interview, followed by the review. If you can't make it on Thursday night, we'll have signed copies of Use of Force that can be ordered through the Web Store. https://bit.ly/2udpCwL