Actually, Diana Gabaldon and Laurie R. King were not matched up in the recent collection edited by Lee Child.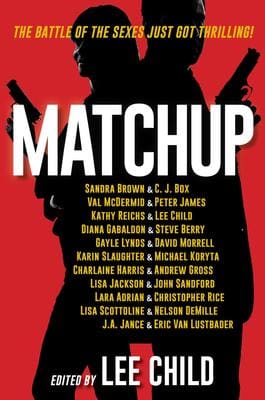 They were matched up for a conversation sponsored by The Poisoned Pen. Diana Gabaldon is one of the featured authors in the book. Jamie Frasier and Steve Berry's Cotton Malone were matched up in a story called "Past Prologue". Here's a summary of the book.
In this incredible follow-up to the New York Times and USA TODAY bestseller FaceOff, twenty-two of the world's most popular thriller writers come together for an unforgettable anthology.
MatchUp takes the never-before-seen bestseller pairings of FaceOff and adds a delicious new twist: gender. Eleven of the world's best female thriller writers from Diana Gabaldon to Charlaine Harris are paired with eleven of the world's best male thriller writers, including John Sandford, C.J. Box, and Nelson DeMille. The stories are edited by #1 New York Times bestselling author Lee Child and feature:
-Lee Coburn and Joe Pickett in "Honor & …" by Sandra Brown and C.J. Box
-Tony Hill and Roy Grace in "Footloose" by Val McDermid and Peter James
-Temperance Brennan and Jack Reacher in "Faking a Murderer" by Kathy Reichs and Lee Child
-Jamie Fraser and Cotton Malone in "Past Prologue" by Diana Gabaldon and Steve Berry
-Liz Sansborough and Rambo in "Rambo on Their Minds" by Gayle Lynds and David Morrell
-Jeffrey Tolliver and Joe Pritchard in "Short Story" by Karin Slaughter and Michael Koryta
-Harper Connelly and Ty Hauck in "Dig Here" by Charlaine Harris and Andrew Gross
-Regan Pescoli and Lucas Davenport in "Deserves to be Dead" by Lisa Jackson and John Sandford
-Lucan Thorne and Lilliane in "Midnight Flame" by Lara Adrian and Christopher Rice
-Bennie Rosato and John Corey in "Getaway" by Lisa Scottoline and Nelson DeMille
-Ali Reynolds and Bravo Shaw in "Taking the Veil" by J.A. Jance and Eric Van Lustbader
*****
That's an enticing book, isn't it? You can order a signed copy through the Web Store. https://bit.ly/2r8dCM9
Here are photos from the recent event.