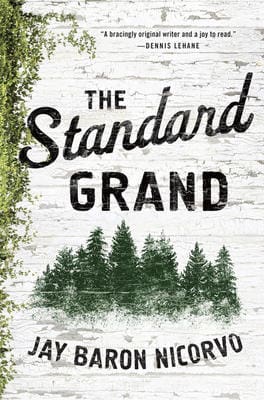 Jay Baron Nicorvo's The Standard Grand is June's Modern First Pick for The Poisoned Pen. Here's the synopsis.
Nicorvo is a bracingly original writer and a joy to read." – Dennis Lehane
"A desperate masterpiece of a debut" that tells a huge-hearted American saga – of love, violence, war, conspiracy and the aftermath of them all." – Bonnie Jo Campbell
"Nicorvo's muscular and energetic prose will stun readers with its poignancy, while providing a punch to the solar plexus." – Booklist (Starred Review)
"A dash of Coetzee, a dram of Delillo, but mostly just the complicated compassion of Jay Nicorvo. The Standard Grand is a brutally beautiful novel." – Pam Houston, author of Contents May Have Shifted
"It seems possible that Nicorvo has ingested all the darkness of this life and now breathes fire." Nick Flynn, author of Another Bullshit Night in Suck City
When an Army trucker goes AWOL before her third deployment, she ends up sleeping in Central Park. There, she meets a Vietnam vet and widower who inherited a tumbledown Borscht Belt resort. Converted into a halfway house for homeless veterans, the Standard – and its two thousand acres over the Marcellus Shale Formation – is coveted by a Houston-based multinational company. Toward what end, only a corporate executive knows.
With three violent acts at its center – a mauling, a shooting, a mysterious death decades in the past – and set largely in the Catskills, The Standard Grand spans an epic year in the lives of its diverse cast: a female veteran protagonist, a Mesoamerican lesbian landman, a mercenary security contractor keeping secrets and seeking answers, a conspiratorial gang of combat vets fighting to get peaceably by, and a cougar – along with appearances by Sammy Davis, Jr. and Senator Al Franken. All of the characters – soldiers, civilians – struggle to discover that what matters most is not that they've caused no harm, but how they make amends for the harm they've caused.
Jay Baron Nicorvo's The Standard Grand confronts a glaring cultural omission: the absence of women in our war stories. Like the best of its characters – who aspire more to goodness than greatness – this American novel hopes to darn a hole or two in the frayed national fabric.
*****
Nicorvo wrote about the inspiration and background of the book for Poets & Writers e-newsletter. https://bit.ly/2rvKous
You can order a signed copy through the Web Store. https://bit.ly/2raL0T2
Oh, you don't know about Modern Firsts? You should check out the information about the book clubs. Those are book clubs to receive books, not to discuss them. The information is here. https://poisonedpen.com/book-clubs/