Long before Joseph Finder was the author of The Switch, he was a boy who fell in love with one author's book.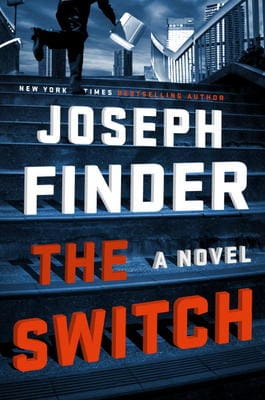 Finder tells that story in a recent article for Publishers Weekly. https://bit.ly/2qTZCGt. It's the story of an author who cared enough to answer a young boy, answers that inspired him.
You can read the article. You can also meet Joseph Finder at The Poisoned Pen on Saturday, June 17 at 2 PM when he's on book tour for The Switch. You can pre-order a signed copy of the book through the Web Store. https://bit.ly/2qThvY5
Here's the description of The Switch.
A simple mix up throws one innocent man into the crosshairs of sinister government secrets and ruthless political ambitions in New York Timesbestselling author Joseph Finder's timely, electrifying new thriller.
Michael Tanner is on his way home from a business trip when he accidentally picks up the wrong MacBook in an airport security line. He doesn't notice the mix-up until he arrives home in Boston, but by then it's too late. Tanner's curiosity gets the better of him when he discovers that the owner is a US senator and that the laptop contains top secret files.
When Senator Susan Robbins realizes she's come back with the wrong laptop, she calls her young chief of staff, Will Abbott, in a panic. Both know that the senator broke the law by uploading classified documents onto her personal computer. If those documents wind up in the wrong hands, it could be Snowden 2.0—and her career in politics will be over. She needs to recover the MacBook before it's too late.
When Will fails to gain Tanner's cooperation, he is forced to take measures to retrieve the laptop before a bigger security breach is revealed.  He turns to an unscrupulous "fixer" for help.  In the meantime, the security agency whose files the senator has appropriated has its own methods, darker still—and suddenly Tanner finds himself a hunted man, on the run, terrified for the safety of his family, in desperate need of a plan, and able to trust no one.