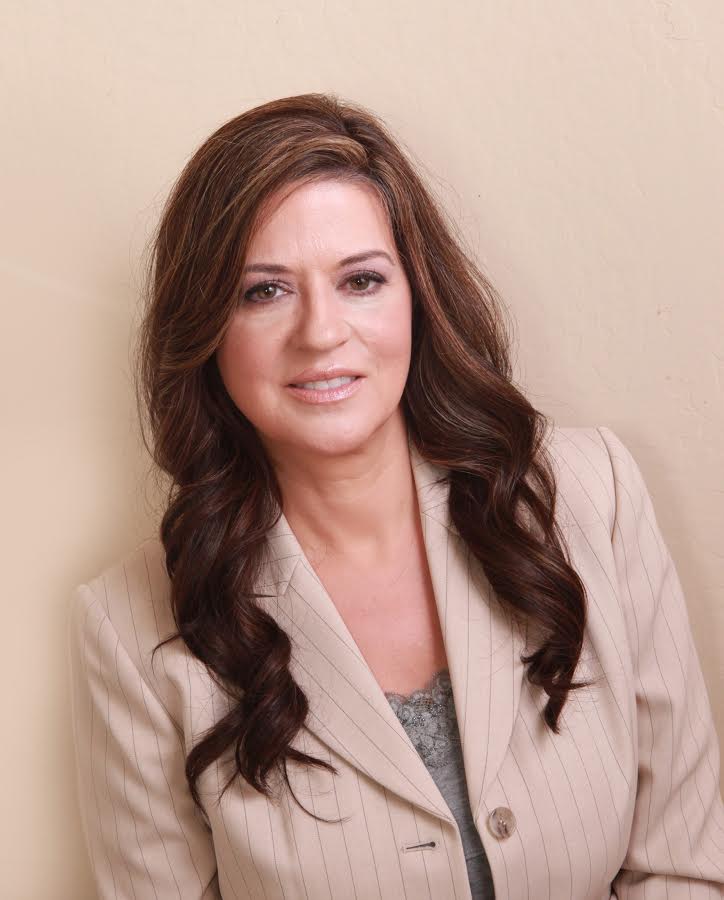 Isabella Maldonado is the author of the debut mystery, Blood's Echo. It's not that a debut author doesn't need an introduction. But Maldonado's personal story is so fascinating that I'll let her answer the questions. You should read her answers
Isabella, would you introduce yourself to the readers?
My journey to publication took a 22-year detour. I always planned to write, but also wanted to be a police officer. I joined the force right out of college and, over two decades later, retired at the rank of captain. While on the department, I was a patrol officer, hostage negotiator, spokesperson, and recruit instructor at the police academy.  After being promoted, I was a patrol sergeant and lieutenant. Finally, as a captain, I commanded the Special Investigations and Forensics Division, Gang Council, Public Information Office, and a patrol precinct with over 130 officers, detectives and civilian employees.
One of my most memorable experiences was graduating from the FBI National Academy in Quantico, which involved eleven weeks of physically and mentally challenging study for law enforcement executives from around the world.
After retiring and moving to Arizona in 2010, I joined the Sisters in Crime Desert Sleuths Chapter with the goal of embarking on a second career as a crime fiction writer. For five years, I studied writing and published three short stories. In 2015, at the annual "Write Now!" conference in Scottsdale, I pitched to Terri Bischoff, Acquiring Editor for Midnight Ink, and was subsequently offered a three-book deal. The first book in the Veranda Cruz series, Blood's Echo, debuted in March and is now available in hardcover, paperback, and digital formats. I'm finalizing edits on book two while writing book three…still have to pinch myself!
Tell us about Blood's Echo, without spoilers.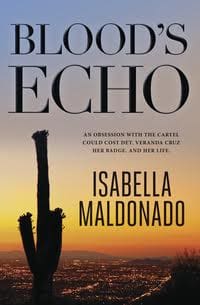 Detective Veranda Cruz is on a mission to bring down the Villalobos cartel. Not content to simply sell drugs, the sprawling criminal empire engages in human trafficking, computer crimes, money laundering, and illegal weapons. Every cop wants to put cuffs on Bartolo Villalobos, but Veranda is determined to see him behind bars for her own reasons.
After a two-year investigation, she's on the verge of success, but her quarry is one step ahead of her. Bartolo not only evades her trap, but unearths Veranda's secret and uses it against her. As she races to solve the mystery of Bartolo's power, she's thrown into the path of a hot arson investigator and an overzealous Internal Affairs sergeant.
Veranda is surrounded by a large, loving family and shares a special bond with her mother, who sacrificed everything to give her a better life. Horrified, Veranda learns the consequences of her determination to end the Villalobos family's stranglehold on Phoenix when those she loves are put squarely in their crosshairs. As Bartolo closes in, Veranda draws on her experience as an undercover detective to make the most heart-wrenching decision of her life.
You've kicked off a new police procedural series with Blood's Echo. Can you give us some hints about the second book?
The second book picks up six weeks after Blood's Echo ends. The wild ride from the first story creates repercussions for the characters, and the second installment continues their journey.
As firstborn son, Adolfo Villalobos seeks his rightful place at the helm of the cartel, but must prove himself to his own family. Sensing weakness, rival crime bosses encroach on his territory. When Veranda goes after him, he's fighting on three fronts and lashes out, cutting a swath of destruction through downtown Phoenix and making national headlines. The FBI, along with an alphabet soup of federal agencies, creates an inter-agency minefield Veranda must navigate.
Veranda's career, relationship with her family, and inner strength are tested to the breaking point as she pursues a murderous crime boss who's determined not just to kill her, but to utterly humiliate and destroy her.
Why did you decide to write crime fiction?
As a cop, I had to delve into the psyche of both perpetrators and victims to conduct investigations. I want to give readers a peek into what police do and how much it costs them and their families. So often, what we see on television or in movies is far from reality. Some of this is by necessity due to the constraints of the medium, but novels lend themselves to a more complete portrayal. I owe it to my fellow law enforcement officers to be relentlessly authentic, and that's what I've endeavored to do.
Readers will undoubtedly think of your career when they think of Veranda. What was your most unusual experience that you can tell us about?
When I was a uniform patrol officer early in my career, a detective asked me to help him serve a burglary arrest warrant. When we arrived at the suspect's apartment, which was little more than a tenement, we found him with his wife and two-year-old son. It was near the holidays, and the young father hadn't told his family the presents he'd gotten for them were stolen. He'd broken into a business office and taken a stereo for his wife and an enormous stuffed bear for his son.
When we entered the apartment, I was shocked to see they had no furniture. They all slept together on a mattress on the floor and ate at a rickety card table. The stolen items were the only other things in the tiny apartment. As his wife sobbed, the man came to me, head bowed, and held out his wrists.
The little boy watched as I handcuffed his father. The detective retrieved the stereo, and directed me to confiscate the bear, which was not only stolen property, but evidence. My stomach twisting into knots, I approached the toddler, who clutched the bear as tears rolled down his face. I had just taken his father, and now I would take his only toy. He wouldn't let go, and his mother was too hysterical to help.
I had to gently pry the teddy bear out of his little arms. My efforts to console him were useless. I realized that this is what the child would think of the police. That we were monsters who took away his daddy and his only toy. This was not why I became a cop, and I had to make it right.
After we booked the father, I asked my captain for permission to purchase a big stuffed bear and take it to the child as a replacement. An hour later, I knocked at the door of the apartment holding the biggest stuffed teddy bear I could find at the local toy store. When I walked in, the boy was playing with an empty toothpaste tube. His mother had nothing else to give him.
What happened next changed everything. My captain contacted a reporter with the Washington Post, who subsequently interviewed me about what happened. The next day, the story ran as a feature in the Metro section. It was meant to be a story about a tender-hearted cop (and I took some ribbing from my fellow officers about it), but it morphed into something much more significant.
Gifts for the family began appearing at our police station. People brought toys, food, furniture, books, and clothing for the family. Over the next few days, the pile grew until we had to use the conference room to hold the donated items. Television news got wind of the story and sent camera crews to cover the outpouring from the community.
It soon became apparent there was more than enough for the small family in their little apartment. I spoke to the mother, who readily agreed, and we made arrangements to share the items with other needy families in the building. A moving company volunteered to transport what was now a trailer full of goods to the complex, where many low-income families were able to have books to read, eat healthy food, and sleep in a real bed for the first time.
So many impoverished children and their families ended up having an amazing Christmas that year. The father served a short sentence, and promised to find a way to provide for his family that didn't involve theft. To this day, when Christmas rolls around, I think of that family and how the whole community rallied to support them. I'm also grateful for one little boy who won't think of the police as heartless.
What authors have inspired you?
As a child, the first book that blew my mind was A Wrinkle in Time. The idea that a writer could transport me to another dimension amazed me.
When I was a police lieutenant, a senior patrol officer in his fifties recommended the Harry Potter series…how could I resist? That began a love affair with all things JK Rowling (and Robert Gilbraith) that still goes on to this day.
As a female crime writer, I owe a lot to Sara Paretsky. Not only did she pave the way for other women to break into a traditionally male-dominated genre, she also helped found Sisters in Crime. I have been a member for seven years, and served as the Phoenix chapter president in 2015. One of my highlights was meeting Ms. Paretsky, who came to speak at our annual conference that year.
Other than your own, name several books you would never part with.
Pride and Prejudice by Jane Austen, The Black Echo by Michael Connelly, One for the Money by Janet Evanovich, The Stand by Stephen King, Harry Potter and the Order of the Phoenix by JK Rowling, and You are a Badass by Jen Sincero.
What's on your TBR (To Be Read) pile?
Unsub, by Meg Gardiner, A Reek of Red Herrings by Catriona McPherson, Carved in Stone by Maegan Beaumont, The Accidental Alchemist by Gigi Pandian, Pandora's Legion by Harold Coyle and Barrett Tillman, Paying the Piper by Simon Wood, and The Kept Woman by Karin Slaughter.
You live in my favorite state, Arizona. What's your favorite place to take visitors when they come?
If the visitor is outdoorsy, there's nothing more spectacular than the red rocks of Sedona or the Grand Canyon. If the visitor is the type who likes to be pampered, the spa at the Phoenician Resort is truly in a class by itself. But no trip to Arizona would be complete without eating at the best authentic Mexican restaurant in the state: The Barrio Queen in Scottsdale.
You can find signed copies of Isabella Maldonado's Blood's Echo through the Web Store. https://bit.ly/2pegskC