Brunonia Barry, author of The Lace Reader, is at The Poisoned Pen on Wednesday, March 15 at 7 PM, on book tour for her new book, The Fifth Petal.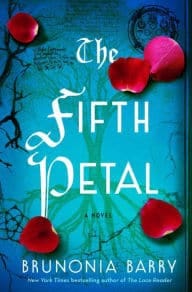 Here's the summary of the book on the Web Store.
Beloved author Brunonia Barry returns to the world of THE LACE READER with this spellbinding new thriller, a complex brew of suspense, seduction and murder.
When a teenage boy dies suspiciously on Halloween night, Salem's chief of police, John Rafferty, now married to gifted lace reader Towner Whitney, wonders if there is a connection between his death and Salem's most notorious cold case, a triple homicide dubbed "The Goddess Murders," in which three young women, all descended from accused Salem witches, were slashed on Halloween night in 1989. He finds unexpected help in Callie Cahill, the daughter of one of the victims newly returned to town. Neither believes that the main suspect, Rose Whelan, respected local historian, is guilty of murder or witchcraft.
But exonerating Rose might mean crossing paths with a dangerous force. Were the women victims of an all-too-human vengeance, or was the devil raised in Salem that night? And if they cannot discover what truly happened, will evil rise again?
*****
Barry is giving away copies of her new book. Here's her note.
Dear Reader,
The 2014 death of a teenage boy reopens Salem's most famous cold case, the 1989 Halloween murders of three young women, all descended from victims of the infamous Salem Witch Trials. With the accusation of Rose Whelan, once a renowned scholar who has fallen on hard times, the story becomes a modern day witch-hunt. A triple mystery with mythical roots, The Fifth Petal stands alone, but fans of The Lace Reader will welcome familiar characters.
I'm giving away five books. Write to me at brunoniabarry@gmail.com.
Brunonia Barry
If you're not lucky enough to win a copy, or you expect you won't, you can order a signed copy through the Web Store. https://bit.ly/2nqhNBj