If you love mysteries set in Great Britain, you won't want to miss Deborah Crombie and Charles and Caroline Todd when they appear together at The Poisoned Pen, Saturday, Feb. 18 at 2 PM. Crombie will be signing Garden of Lamentations, and the Todds will sign the latest Rutledge book, Racing the Devil.
I was lucky enough to attend a tea, sponsored by HarperCollins, the authors' publishers, when I was at Bouchercon in September. I'm going to share that post because I hope to entice you to come to The Poisoned Pen to hear the authors.
*****
HarperCollins invited a small group of bloggers, librarians and booksellers to a two-hour tea with Deborah Crombie and mother-son team of Charles and Caroline Todd. While the attendees were at small tables, Charles, Caroline and Deborah talked, and then joined us at the tables.
Caroline Todd led the conversation, asking Deborah Crombie about her next book featuring Duncan Kincaid and Gemma James. Garden of Lamentations comes out in February, and Deborah did have the cover art to show us.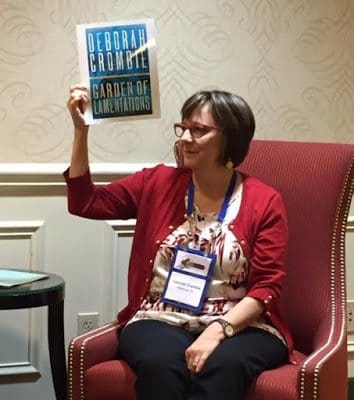 And, then Caroline said Duncan and Gemma are the modern equivalent of the Todds' Rutledge and Bess. She said that's one reason they love each other's books, and, they did even before they met or toured together. And, speaking of touring, they told us about the story of a Florida book tour. They were to appear at a library, and they were dropped at a hotel in the middle of nowhere. When they asked about food, they were pointed to a small shack. But, the food was so good. And, people were feeding alligators nearby. There were signs, though, saying do not take the path after dark. The food at the shack was good, but if you took the path at night, you might be eaten on the way.
Caroline asked Deborah about going to England to research the places for her mysteries. Deborah said you have to go. The Sound of Broken Glass takes place at the Crystal Palace in South London. Deborah's guide told her you could get stranded there if the weather is bad, and people had been stranded there for three days by an ice storm. No one could get in or out. She knew she had to use that as part of the story. Charles and Caroline went on to tell their own story about the Crystal Palace. There are trees in it, and it's built of glass. When it was first built, sparrows got in there. They didn't know how to get them out. They couldn't shoot them because of the glass. The Duke of Wellington only said one word. "Sparrowhawks." And, that's what they did. They let sparrowhawks loose to get the sparrows.
The tidbits of conversation from the three authors were so enjoyable to listen to. In comparing characters, they said Crombie's Duncan stands back and analyzes as Rutledge does, and Gemma, like the Todds' Bess Crawford, tackles troubles head-on.
Caroline Todd said they put Inspector Rutledge in Scotland Yard because they could send him to other parts of England. Everyone did London, so they wanted to explore crimes in other parts of the country.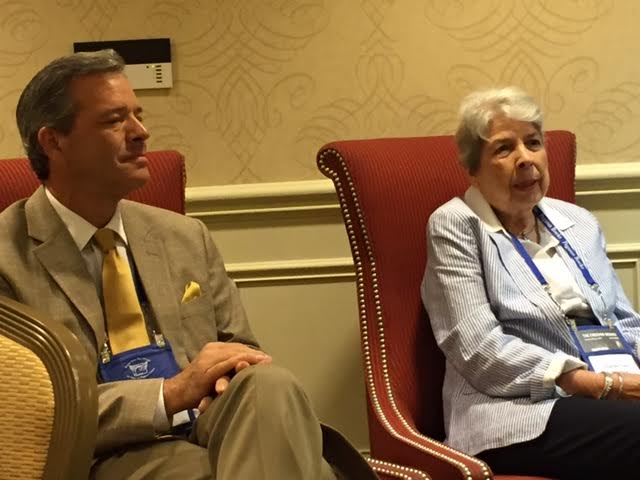 Charles and Caroline Todd
Caroline said they explore villages because there's more opportunity for murder. People in villages know each other. She said the friend who takes them around when they explore will contact them, saying, "I have found the loveliest place of find a body." They said the villages have the same social structure as London, but in the city, the classes may never mix. In the villages, everyone interacts. Charles said he was a corporate troubleshooter, and he knows what it's like to show up and not be welcome in a village, so outsiders may not be welcome, and may be shut out. He said it's important to explore the villages, to see the details. All three authors agreed that pubs are the perfect places for people watching.
Charles described the correct way to draw Guinness in England. He said there's a line on a standard clear glass pint. When it's done right, there's no foam below the line. The foam is all above the line, and they leave room to form the clover leaf.
In The Shattered Tree, the latest Bess Crawford mystery, the Todds deliberately sent her to Paris. They wanted to see how she would deal when she was out of her comfort zone with no support.
In talking about research, they all agreed they do extensive research, but there are stories they couldn't use. They discussed clothing. Women wore military-style gowns during World War I. They couldn't get feathers. The British wore dark styles while in mourning, but Paris refused to do that.
For The Shattered Tree, they had to know that the French lost Alsace-Lorraine to the Germans in the Prussian War. After the war, the official language was German.  And, Bess has a patient who speaks German when he has a shock. Is he a German spy? Or, something else? Then, Charles gave a great deal of information about the Paris gun. It fired from eighty-two miles away. There was a great psychological effect because people couldn't hear it go off. It was a four hundred pound plus bomb, but it only made a four foot wide hole. It was not very accurate, and not highly explosive. But, the people suffered from horrific terror during the summer of 1918 because they never heard the bomb coming.
Asled about outlining, Caroline said she never could outline. Even in college, she would write the paper and then outline it afterward. They let the story tell itself. They know the first scene. She said the characters will tell you what will happen next if you listen to the characters.
Charles said as a mystery author, they need to be one step ahead of the reader. But, they have to play fair. If the reader goes back, they have to be able to make sense of the story. "Readers keep us honest."
Deborah agreed. Garden of Lamentations has multiple viewpoints and storylines. She doesn't like keeping things from the reader. She believes in fair play and the traditional formula. That's what made traditional mysteries popular. Can you catch the killer?
I waited to thank Deborah and the Todds, and I was able to get final pictures of the authors after the entertaining program.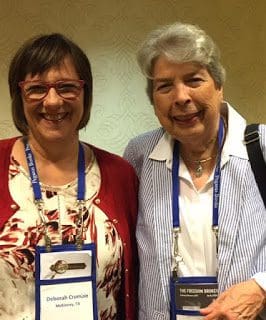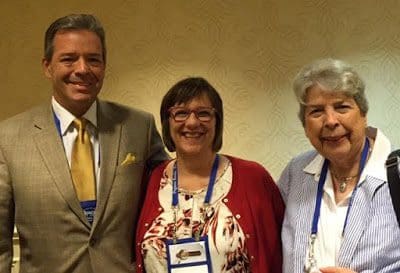 Watch for signed copies of Garden of Lamentations and Racing the Devil in the Web Store. https://store.poisonedpen.com/ And, I hope you can make it to the program on Saturday.