Have you ever heard of Brian Regan? Probably not. He's the subject of Yudhijit Bhattacharjee's true account, The Spy Who Couldn't Spell: A Dyslexic Traitor, An Unbreakable Code And The FBI's Hunt For America's Stolen Secrets.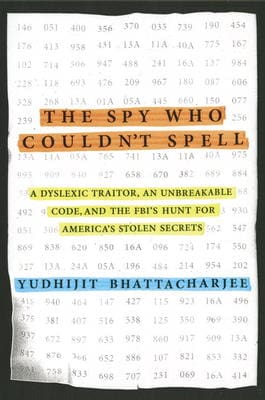 Here's the summary from our Web Store. The thrilling, true-life account of the FBI's hunt for the ingenious traitor Brian Regan—known as the Spy Who Couldn't Spell.
Before Edward Snowden's infamous data breach, the largest theft of government secrets was committed by an ingenious traitor whose intricate espionage scheme and complex system of coded messages were made even more baffling by his dyslexia. His name is Brian Regan, but he came to be known as The Spy Who Couldn't Spell.
In December of 2000, FBI Special Agent Steven Carr of the bureau's Washington, D.C., office received a package from FBI New York: a series of coded letters from an anonymous sender to the Libyan consulate, offering to sell classified United States intelligence. The offer, and the threat, were all too real. A self-proclaimed CIA analyst with top secret clearance had information about U.S. reconnaissance satellites, air defense systems, weapons depots, munitions factories, and underground bunkers throughout the Middle East.
Rooting out the traitor would not be easy, but certain clues suggested a government agent with a military background, a family, and a dire need for money. Leading a diligent team of investigators and code breakers, Carr spent years hunting down a dangerous spy and his cache of stolen secrets.
In this fast-paced true-life spy thriller, Yudhijit Bhattacharjee reveals how the FBI unraveled Regan's strange web of codes to build a case against a man who nearly collapsed America's military security.
INCLUDES PHOTOGRAPHS
Why bring this up now? Bhattacharjee was recently interviewed on NPR's All Things Considered. You can read the interview here. https://n.pr/2gehDMR
Or you can listen to it. https://www.npr.org/player/embed/502717977/502717978" target="_blank">https://www.npr.org/player/embed/502717977/502717978
And, you can purchase a copy of The Spy Who Couldn't Spell through the Web Store. https://bit.ly/2fOG7eU