I feel honored every time Carolyn Hart writes to me. That's how I felt the first time I hosted her at the library. My gosh! Carolyn Hart! I still feel that way.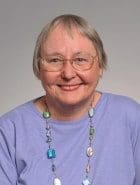 Carolyn Hart is the author of more than 56 novels, and a Mystery Writers of America (MWA) Grand Master. Hart was one of ten mystery authors featured at the National Book Festival on the Mall in Washington D.C. in 2003 and again in 2007. In March 2004 she received the Arrell Gibson Lifetime Achievement Award from the Oklahoma Center for the Book. She has twice won the annual Oklahoma Book Award for best novel. In April 2004 she spoke at the Library of Congress in Washington D.C. on mysteries in American culture. She received the Ridley Pearson Award at Murder in the Grove, Boise, Idaho, in 2005 for significant contributions to the mystery field. She has received the Lifetime Achievement Award and the Amelia Award from Malice Domestic. In 2014, she was named a Grand Master by the Mystery Writers of America. She is the winner of three Agatha Awards for Best Novel, two Anthonys and two Macavitys.
In other words, Carolyn Hart is one of the treasures of the mystery field. And, she'll be appearing at the Poisoned Pen Tuesday, October 4 at 7 PM along with authors Donis Casey and Hannah Dennison. Carolyn will be discussing and signing her book, Ghost Times Two.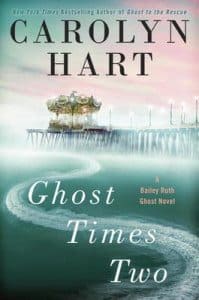 Today, though, I have a Q&A with Carolyn. She took time to sit In the Hot Seat and answer questions. Thank you, Carolyn.
Carolyn, I'm sure most readers recognize your name. What would you like to say to introduce yourself?
I love mysteries, kind people, and cats.
Would you introduce Bailey Ruth?
Bailey Ruth Raeburn, late of Adelaide, OK, is a fun-loving, energetic, impulsive emissary from Heaven's Department of Good intentions. Bailey Ruth delights in returning to earth to help people in trouble.
    In her debut, Ghost at Work, she helps move a body then feels compelled to solve the murder.
     In Merry, Merry Ghost, she protects an orphaned little boy during a Christmas transformed by joy and marred by sorrow.
     Bailey Ruth deals with a fractious recipient of her aid, a fraudulent medium, and a heartbroken mother in Ghost in Trouble.
     A cocky young man's late aunt steers Bailey Ruth to earth in Ghost Gone Wild, but Heaven has no idea Bailey Ruth is on the case.
    In Ghost Wanted, Bailey Ruth's Heavenly supervisor Wiggins is distraught when a kind ghost at the college library is blamed for malicious pranks. Bailey Ruth's search for an elusive spirit reveals a long ago love story and a present day romance.
    When a teenager wishes upon a star in Ghost to the Rescue, Bailey Ruth lands in her mom's hotel room just in time to thwart the unwelcome advances of a man who wants more that good work from an employee.
How did you come up with Bailey Ruth as a character?
    I love the Topper Books and Blithe Spirit. I wanted to write about a cheerful, smart, engaging ghost. I didn't have Bailey Ruth in mind when I started Ghost at Work but suddenly she came around a golden cloud, redheaded, mischievous, unpretentious, lively, a former English teacher, later in the Chamber of Commerce. She loves her hometown of Adelaide, OK., a fictionalized version of my husband's hometown of Ada, OK, in the rolling hills of south central Oklahoma. She's been great fun to get to know. She makes me laugh.
Tell us about Ghost Times Two, without spoilers.
In Ghost Times Two, Bailey Ruth encourages Jimmy Taylor, a young, fun-loving ghost, to climb the Golden Stairs to Heaven. Jimmy doesn't want to leave his beloved Megan, especially since a young lawyer (Jimmy says he's a dweeb) hopes to win her love but when Megan is suspected of murder, Jimmy helps Bailey Ruth save her, even if she ends up in a new love's embrace.  
You've been writing mysteries for quite a number of years. What authors inspired you?
    Mary Roberts Rinehart, Agatha Christie, Phoebe Atwood Taylor,  Josephine Tey.
What has changed for the better in the publishing world since you started?
    The mystery world is much more interconnected through both the Internet and writers' organizations. It is a delight to know personally so many wonderful mystery writers I admire and respect.
Here's that dinner party question, with a twist. What mystery authors would you like to host for dinner, along with their heroes? Why?
    Selwyn Jepson (1899-1989) and Eve Gill. Jepson served in the British military in both WWI and WWII, the latter in SOE. He preferred to recruit women as agents: "Women, as you must know, have a far greater capacity for cold and lonely courage than men." Eve Gill exhibits the qualities he admired, audacity, coolness, courage "" and she is fun to boot.
    Pamela Branch (1902-1967) and Sam Egon. Glamorous, sophisticated Pamela Branch is the author of four of the funniest, most exhilarating mysteries ever written. Each book was a standalone. I am especially fond of Sam Egon, the enterprising editor of a failing magazine in Murder's Little Sister, my favorite of the Branch titles.  They would make any dinner party absolutely memorable.
    Constance  (1899-1980) and Gwenyth (1903-1986) Little and Aloysius P. Graham.  The Australian sisters could take any mundane fact situation and launch it into sheer hilarity. Each book was a standalone. One of my favorite's is The Black Goatee.  Aloysius P. Graham has a novel solution to the housing shortage after WWII. His can-do spirit combined with his penchant for indiscretion would make any dinner an adventure. 
    Juanita Sheridan (1906-1974) and Janice Cameron and her foster sister Lily Wu. Juanita Sheridan's life was even more exotic than those depicted in her novels. She sought adventure, found it. Her series detecting duo of Janice Cameron, a writer, and Lily Wu, her elegant, brilliant, and perceptive friend, are the kind of women you'd like to have at your side when trouble erupts.
    Nury Vittachi and Feng Sui Master C. F. Wong.
    Bailey Ruth loves mysteries and often visits the Celestial Bookstore where she has met Selwyn Jepson, Pamela Branch, Constance and Gwenyth Little. and Juanita Sheridan. Since I know most of the current authors, I'm inviting an author I will likely never meet (on earth). Nury Vittachi  is a journalist and columnist in Hong Kong. Feng Sui Master C. F. Wong stars in books that are both funny and touching. I would love to have C. F. Wong at the dinner table to share anecdotes from Some Gleanings of Oriental Wisdom.
My favorite recent quote is from Neil Gaiman. "Trust your obsession." Did you ever have an obsession that you had to turn into a story? What was it?
As a child growing up during WWII, the war dominated our lives. I was inspired by the courage of ordinary people caught up in horrific times. The result was three novels. Escape from Paris is the story of two American sisters trapped in Paris after France fell to the Germans and their efforts to aid escaping British airmen even though the Gestapo was only a step behind. Brave Hearts is a story of love and despair against the backdrop of the  bombardment of Corregidor and the fall of the Philippines. Letter from Home occurs on the home front in the summer of 1944. Two girls are caught up in a crime that will change their lives.
I just finished Ann Hood's novel, The Book That Matters Most. A character admits that the book that matters can change throughout our lives. Is there a book that mattered most to you at one time? Why?
 Little Women. Jo is always and ever my favorite heroine.
What is on your TBR pile?
Mignon F. Ballard   Miss Dimple and the Slightly Bewildered Angel
Rhys Bowen    Crowned and Dangerous
Delight awaits me.
And, delight will await you if you have the chance to meet and listen to Carolyn Hart on October 4. Don't forget, you can pre-order a signed copy of Ghost Times Two through the Web Store. https://bit.ly/2bcyd9R