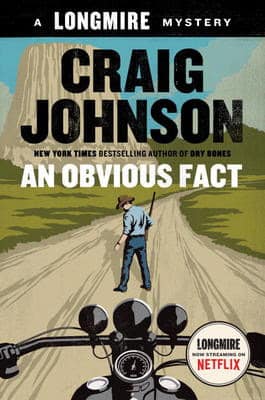 Craig Johnson will be at The Poisoned Pen at 7 PM on Wednesday, September 21 to discuss and sign his latest Longmire mystery, An Obvious Fact. If you miss this event, you'll be missing one of the best oral storytellers in the mystery field. (I'm sorry I can't be there.)
What better way to introduce Craig's new book that a note in this week's e-newsletter from Barbara Peters, owner of The Poisoned Pen?
Craig Johnson – An Obvious Fact – Viking ($28.00)
Hello,
This is Barbara, just back from 32 days on the Crystal Northwest Passage Cruise. When we weren't looking (vainly) for ice or for polar bears (some luck) I was reading fall books. The one that kept me riveted, and not just laughing but reading bits aloud to passing passengers, was Craig Johnson's robust, ribald, hilarious
An Obvious Fact.
I write in part to announce that we've created a special collectible to go with our copies of An Obvious Fact on Craig's instructions: a ticket to Henry's ride.
You longtime fans know Craig has developed many strands in the Longmire series, one of them mystical, but here he's right down to earth… well nearly since Henry Standing Bear moves front and center as part of his past (Lola!) catches up during his grueling attempt to conquer the Jackpine Gypsies Hill Climb during the Sturgis (ND) Motorcycle Rally, established 1936. It's a gravity defying event.
If you think this is fiction, read about it here.
And this brings Walt to town. And Vic, who unveils killer driving skills of her own. I laughed so hard reading some of her escapades I nearly choked. Plus Walt gets to drive the ultimate Hummer! Those are just a few of the highlights in this glorious story that you can read if you've never read a Longmire up to now. You'll love the local law as well. As for Lola…make up your own mind.
In short, there's something for everyone here. I can't say I've any experience with, or even interest in, motorcycle rallies (it's Craig's gift to have made me care), but really that's the hook,not the meat, of the book.
Don't miss a fabulous, funny evening with Craig. I'll be hanging on for the ride.
Thank you for supporting our author events and The Poisoned Pen
————————————————————————————————-
Poisoned Pen Review:
What fun, a Walt Longmire salted with Sherlock Holmes as read to him by Henry Standing Bear! We are creating some collectible to be inserted into our copies; but I am not sure yet what it is. Here's an on-line review: In Johnson's thrilling 12th Walt Longmire mystery, the Wyoming lawman and his longtime friend and sidekick, Henry Standing Bear, look into the circumstances that led 22-year-old Bodaway Torres, now in a coma, to run his motorcycle off the road during the country's largest annual motorcycle rally, held in Sturgis, South Dakota. Much to Walt's surprise, Bodaway's mother turns out to be "the" Lola, namesake of not only Henry's beloved car but also Walt's infant granddaughter-and there's a history between Henry and Lola that's anything but pleasant. When it becomes clear that Bodaway's crash was no accident and that ATF has its eye on the victim-was he running guns, or even drugs?-Walt is glad when his undersheriff, the always fiery Victoria Moretti, shows up, fresh off investigating her brother's murder in Philadelphia. Whether he's squaring off against biker gangs or teasing out long-simmering feuds involving his closest friends, Walt Longmire is always the man for the job
*****
To order a signed copy of An Obvious Fact, and receive the gift, check out the Web Store. https://bit.ly/2cXZ8sO