Warren Easley's Not Dead Enough, A Cal Claxton Oregon Mystery from Poisoned Pen Press, is the June pick for the Thriller Club.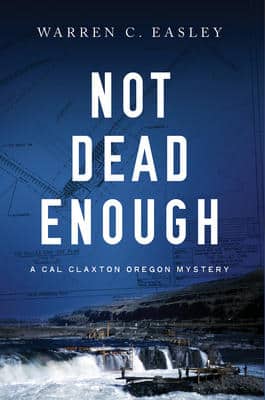 Michael Barson recently did a Q&A with the author in which they discussed Easley's series.
1) When you created attorney Cal Claxton, how did you envision him being different from other protagonists in today's crime fiction?
I certainly knew what I didn't want him to be—a tragically flawed, enigmatic figure, which, to me, is a cliché in mystery fiction.  I wanted him to be an everyman, a character whose reactions to situations are not particularly out of the ordinary.  But I wanted him to be dogged and resilient, too.  I knock him down a lot, but he gets up and re-engages. It's a trait I admire greatly.  Like most of us, he's reluctant to engage when it looks daunting, but he's guided by a strong moral compass, and he's particularly prone to come to the aid of the most vulnerable.  
2) Why did you decide that Cal needed to move from practicing law in L.A. to rural Oregon?
Cal was shattered by his wife's suicide in L.A. because he felt he was so wrapped up in his career as a prosecutor that he missed the signs of her depression.  He moves to a remote farmhouse in Dundee, Oregon, in the heart of the wine country, to essentially re-invent himself as a small town lawyer and a fly fisherman.  His goal is to keep his head down and mind his own business, but, of course, trouble has a way of finding him.  
3) The Native American characters who populate Not Dead Enough, and the Indian lore that suffuses the story, carry the ring of authenticity. How much expertise do you possess?
It's always a challenge to write about another culture, and I don't claim any expertise in Native American culture.  Central to the book is the flooding of Celilo Falls on the Columbia River, a fishing and cultural center of the river tribes for millennia.  I visited the re-located Celilo Village several times and read and viewed everything I could get my hands on about Celilo Falls, including historian Katrine Barber's excellent book, Death of Celilo Falls.  Like Tony Hillerman, who had a great influence on me, I write about Native American culture with the utmost respect and admiration.  
4) If you had to choose one author of a classic crime series from whom you drew inspiration for the Cal Claxton series, who would top the list?
Well, that's pretty easy call for me—Raymond Chandler's body of work, particularly The Long Goodbye.  I like the blend of hard-boiled noir, satire, and social commentary that Chandler brings to the genre. 
5) Is there one writer working in the mystery field today whom you especially admire?
I mentioned Tony Hillerman, but the writer I admire the most is James Lee Burke, who writes, among other things, the Dave Robicheaux series set on the Gulf Coast.  Burke's characters jump off the page, his dialogue crackles, and his descriptions of the Gulf Coast always mesmerize me.  I wanted to do something like that in my series with Oregon as the setting.  
6) What is your long-range goal for this series? To keep writing one installment each year for the next twenty years or so?
Ha!  That's what James Lee Burke has done.  My goal is simple—make the next book in the series the best piece of mystery fiction I'm capable of.  One book a year seems reasonable, although the one I'm working on now—number five in the series—is ahead of that schedule.  So many stories to tell, so little time!  
7) Have you ever entertained the idea of starting a second series featuring a different protagonist?
No, I'm pretty focused on the Cal Claxton series.  I do have some ideas for stand-alones that I hope to get to in the not-too-distant future.
Copies of Warren Easley's Cal Claxton books, including signed copies of Not Dead Enough, are available through the Web Store. https://bit.ly/1X7DSTl