Thursday, June 16 at 7 PM, Whitney Terrell, author of The Good Lieutenant, will appear at The Poisoned Pen, joined by Grant Blackwood, author of Tom Clancy: Duty and Honor.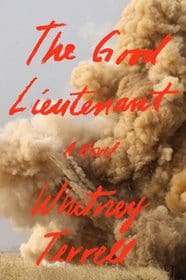 Author Anne Wilson, an Annapolis graduate and Navy veteran, hosts Terrell on June 16 and says this about our July Modern Firsts Club Pick (Terrell, Whitney. The Good Lieutenant, Farrar, $26): Whitney Terrell writes The Good Lieutenant with brutal honesty. We follow Lieutenant Emma Fowler and her all-male platoon in a story that unfolds backwards, Memento style, from an explosive and tragic beginning. Using this ingenious literary construct, Terrell pulls us in as we watch the changes in Emma—more naïve, more innocent, the further she moves from the Iraq War—in a heartbreaking tale of human loss, needless suffering, and the absurdities of war." The PW Starred Review. "Terrell's audacious new novel begins with a literal bang as a U.S. Army patrol in Iraq goes terribly wrong for Lt. Emma Fowler, who is present as her secret lover, Lt. Dixon Pulowski, is critically wounded in an explosion while attempting to recover the corpse of a kidnapped sergeant. The narrative moves in reverse chronological order from there, to show the events before the botched operation, depicting the previous op that got the sergeant abducted at Muthanna intersection, an IED explosion at the same intersection that cost the lives of two soldiers earlier, a bad call made by the colonel who declared the intersection safe, and Fowler's stateside training, where she begins her love affair with Pulowski. Although this backward conceit has been used before, as in the Christopher Nolan film Memento and the Harold Pinter play Betrayal, it works particularly well in this story, which employs the structure to critique the follies of the Iraq War and the adamantine nature of the military mind-set. Terrell shows us how soldiers think and address one another with a stinging combination of military argot and pop culture references. The book's last line echoes the title of one of the first novels about modern warfare, Thomas Boyd's Through the Wheat (1923), to which this novel is an entirely worthy successor."
Here's the publisher's summary of the book: "The Good Lieutenant literally starts with a bang as an operation led by Lieutenant Emma Fowler of the Twenty-seventh Infantry Battalion goes spectacularly wrong. Men are dead–one, a young Iraqi, by her hand. Others were soldiers in her platoon. And the signals officer, Dixon Pulowski. Pulowski is another story entirely–Fowler and Pulowski had been lovers since they met at Fort Riley in Kansas.
From this conflagration, The Good Lieutenant unspools backward in time as Fowler and her platoon are guided into disaster by suspicious informants and questionable intelligence, their very mission the result of a previous snafu in which a soldier had been kidnapped by insurgents. And then even further back, before things began to go so wrong, we see the backstory unfold from points of view that usually are not shown in war coverage–a female frontline officer, for one, but also jaded career soldiers and Iraqis both innocent and not so innocent. Ultimately, as all these stories unravel, what is revealed is what happens when good intentions destroy, experience distorts, and survival becomes everything.
Brilliantly told and expertly captured by a terrific writer at the top of his form, Whitney Terrell's The Good Lieutenant is a gripping, insightful, necessary novel about a war that is proving to be the defining tragedy of our time."
Have we caught your attention yet? If not, check out the video, "Behind the Scenes of The Good Lieutenant". https://www.youtube.com/watch?v=usnG5IXqqYo
As I said, this is the July Modern Firsts Club pick. You might want to order your copy from our web store, https://bit.ly/1OVbxgK
Don't forget, Terrell and Blackwood will be introduced by Anne Wilson, Thursday, June 16 at 7 PM.