In May 2012, The Poisoned Pen partnered with Phoenix Public Library's Burton Barr Library to present the inaugural Cozy Con, featuring a number of cozy mystery authors. Here's a flashback photo of most of the authors present that day.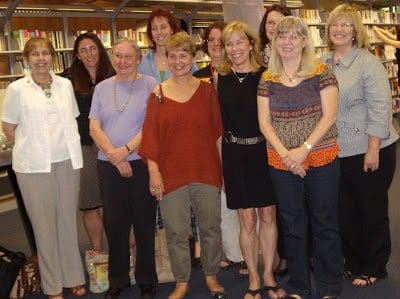 This Saturday, May 7, Cozy Con will be held at The Poisoned Pen Bookstore from 1 to 5 PM. John Charles will be the host.
This year's guest authors include Jenn McKinlay, Paige Shelton, Hannah Dennison, C.S. Harris, Cameron Harvey, Tammy Kaehler, Paul Charles, and Annette Mahon.
Jenn will be signing Vanilla Beaned, the latest in her Cupcake Mysteries. Paige will be signing The Cracked Spine, the first in her Scottish Bookshop series. Hannah will be signing A Killer Ball at Honeychurch Hall, #3 in the series. C.S will be signing When Falcons Fall the latest of her series Sebastian St. Cyr mysteries. Cameron will be signing The Evidence Room, her debut mystery. Tammy will be signing Red Flags, #4 in her Kate Reilly series. Paul Charles will be signing St. Ernan's Blues, #3 in the Inspector Starrett series. And Annette will be signing Slay Bells, #6 in her locally set St. Rose Quilting Bee series. There may be other authors joining in.
We'll have refreshments, but we'd love to have everyone bring a plate of cookies, so we have some variety.
Those purchasing a copy of one of the guest author's books will also be eligible for a drawing of a gift basket.
Cozy Con has been a fun event, so we hope you can join John Charles and the authors for the program.