Here's a teaser before Laurie R. King appears at The Poisoned Pen on Saturday, April 9. Have you seen her website with the link to an exclusive ebook short story? She takes readers back in the story, "The Marriage of Mary Russell". You can find out more here.
https://www.laurierking.com/marriage-of-mary-russell-2016.html#more-12685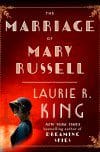 And, come back tomorrow when there's news of The Poisoned Pen's event as we host Laurie R. King for discussion and signing of her latest book, The Murder of Mary Russell. There's more!