This club is for the mystery fan who doesn't like to be pigeon-holed into one particular sub-genre. We'll be drawing from a variety of different styles – thrillers, psychological crime novels, hardboiled/noir fiction, police procedurals and more – to provide you with a well-rounded reading experience throughout the year.
2023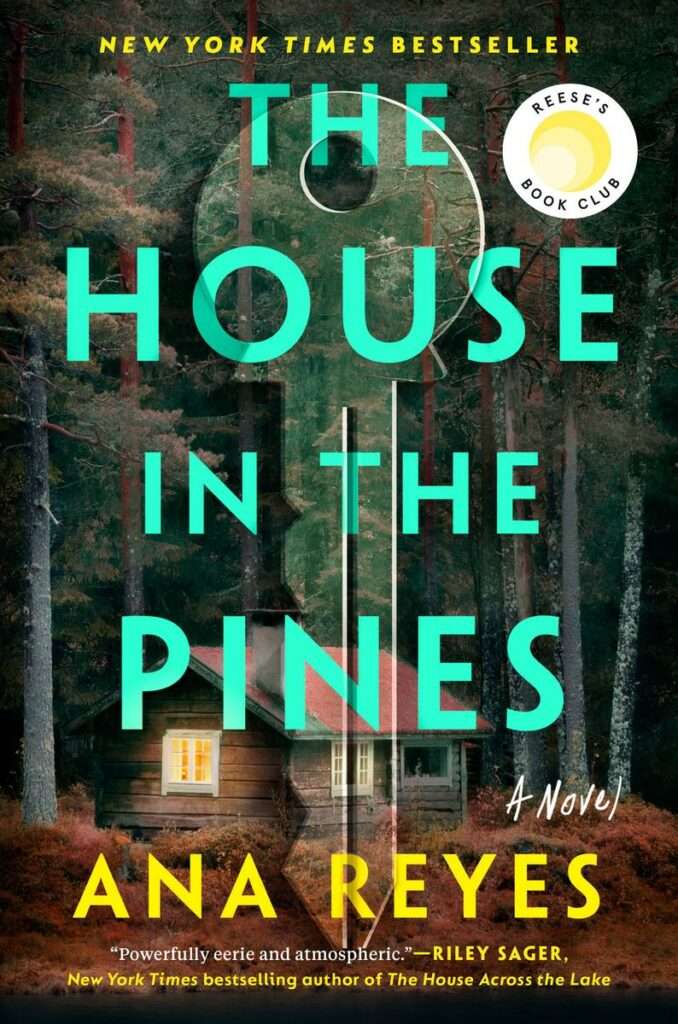 Jan: Reyes, Ana. The House in the Pines (Penguin, $27.00).
An instant New York Times bestseller!

"This is an absolute, can't-put-it-down thriller…It's truly a wild ride that had me flying through chapter after chapter—which I think is the perfect way to kick off your year of reading." —Reese Witherspoon (Reese's Book Club Jan '23 Pick)

Armed with only hazy memories, a woman who long ago witnessed her friend's sudden, mysterious death, and has since spent her life trying to forget, sets out to track down answers. What she uncovers, deep in the woods, is hardly to be believed….
Maya was a high school senior when her best friend, Aubrey, mysteriously dropped dead in front of the enigmatic man named Frank whom they'd been spending time with all summer.

Seven years later, Maya lives in Boston with a loving boyfriend and is kicking the secret addiction that has allowed her to cope with what happened years ago, the gaps in her memories, and the lost time that she can't account for. But her past comes rushing back when she comes across a recent YouTube video in which a young woman suddenly keels over and dies in a diner while sitting across from none other than Frank. Plunged into the trauma that has defined her life, Maya heads to her Berkshires hometown to relive that fateful summer—the influence Frank once had on her and the obsessive jealousy that nearly destroyed her friendship with Aubrey.

At her mother's house, she excavates fragments of her past and notices hidden messages in her deceased Guatemalan father's book that didn't stand out to her earlier. To save herself, she must understand a story written before she was born, but time keeps running out, and soon, all roads are leading back to Frank's cabin….

Utterly unique and captivating, The House in the Pines keeps you guessing about whether we can ever fully confront the past and return home.
2022
Jan.: Koontz, Dean. Quicksilver
Feb: Kistler, Bonnie. The Cage
March: Meltzer, Brad. The Lightning Rod
April: Sandford, John. The Investigator
May: Bohjalian, Chris. The Lioness
June: Pavone, Chris. Two Nights in Lisbon
July: Clark, Julie. The Lies I Tell and Byrne, James. The Gatekeeper
Aug Iglesias, Gabriel. The Devil Takes You Home
Sept: Raybourn, Deanna. Killers of a Certain Age
Oct: Gentill, Sulari. The Woman in the Library
Nov: O'Connor, Carlene. No Strangers Here
December: Hartov, Stephen. The Last of the Seven (Hanover Square, $26.99).
2021
Jan.: Tracy, PJ. Deep into the Dark
Feb: Berenson, Alex. The Power Couple
March: Staples, Will. Animals
April: McClain, Paula. When the Stars Go Dark
May: Korelitz, Jean Hanff. The Plot
June: Adams, Taylor. Hairpin Bridge
July: Reichs, Kathy. The Bone Code
Aug.: Santlofer, Jonathan. The Last Mona Lisa
Sept. Redmond, Michelle. The Wonder Test
Oct.: Carson, Scott. Where They Wait
Nov: Hall, Rachel Howzell. These Toxic Things
2020
Jan.: Dundas, Chad. The Blaze
Feb. Gardiner, Meg. Dark Corners of the Night
March: Swanson, Peter. Eight Perfect Murders
April: Black, Cara. Three Hours in Paris
May: Turow, Scott. The Last Trial
June: Young, Heather. The Distant Dead
July: Cosby, SA. Blacktop Wasteland
August: Weiden, David Heska Wanbli. Winter Counts (Ecco $34.99)
Sept: Parish, Stan. Love and Theft
October: Unger, Lisa. Confessions on the 7:45 6
Nov: Fleishman, Jeffrey. Last Dance
Dec.: Perry, Thomas. Eddie's Boy