Barbara Peters, owner of The Poisoned Pen, recently welcomed Martin Walker back to the bookstore. Walker was there to talk about two books. The latest Bruno, Chief of Police mystery is A Chateau Under Siege. You can also a signed copy of Bruno's Cookbook, "Recipes and Traditions from a French Country Kitchen". You can order signed copies of both books through the Webstore. https://bit.ly/47rtL3v
Here's the summary of A Chateau Under Siege.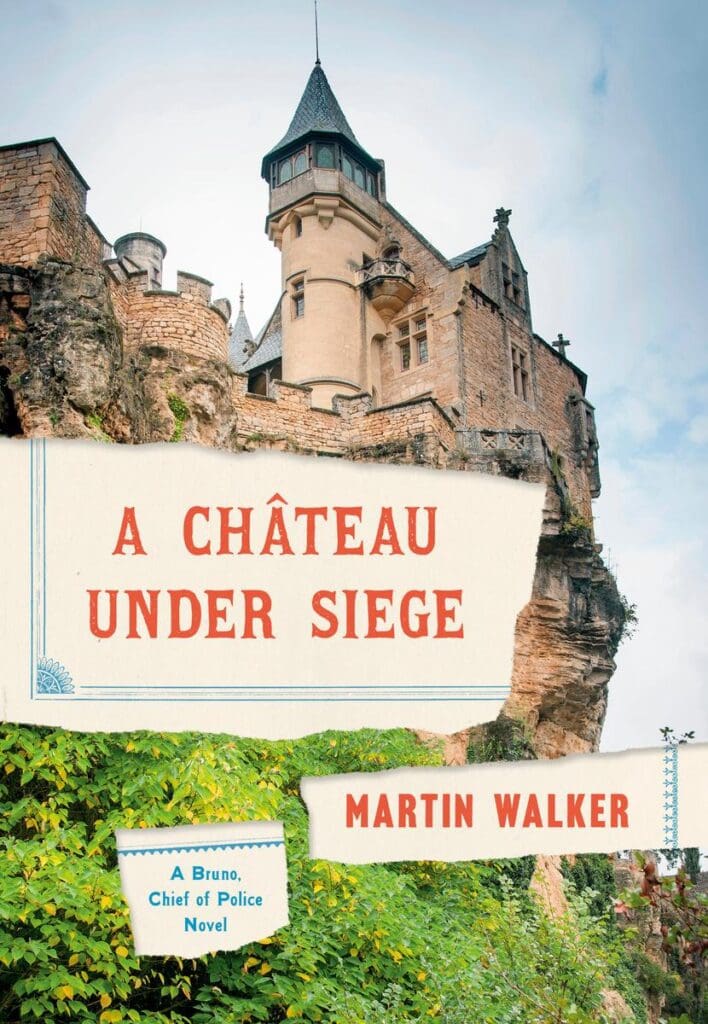 When an actor in a local play is attacked during a performance, Bruno must learn whether it was an accident, a crime of passion, or an assassination attempt with implications far beyond the small French village.
The town of Sarlat is staging a reenactment of its liberation from the British in the Hundred Years War when the play's French hero, Brice Kerquelin, is stabbed and feared fatally wounded. Is it an unfortunate prop malfunction—or something more sinister? The stricken man happens to be number two in the French intelligence service, in line for the top job. Bruno is tasked with the safety of the victim's daughters, Claire and Nadia, as well as their father's old Silicon Valley buddies, ostensibly in town for a reunion. One friend from Taiwan, a tycoon in chip fabrication, soon goes missing, and Bruno suspects there may be a link to the French government's efforts to build a chip industry in Europe—something powerful forces in Russia and China are determined to scuttle. Wading through a tangle of rivalries and secrets, Bruno begins to parse fact from fiction—while also becoming embroiled in some romantic complications, and, of course, finding time to put together some splendid meals.
---
Here's the description of Bruno's Cookbook.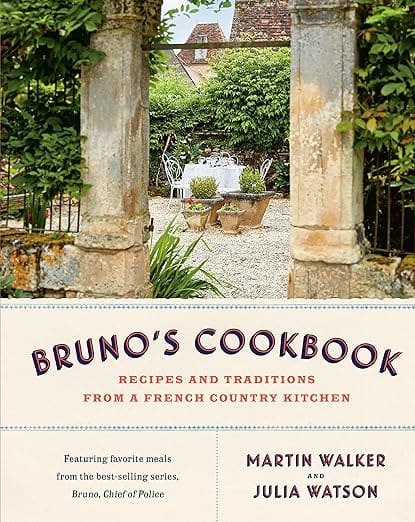 From the author of the internationally best-selling "Bruno, Chief of Police" series, comes a sumptuous French cookbook that immerses readers in the delectable countryside cuisine of Bruno's beloved Périgord region, featuring favorite meals from Roasted Tomato Tapenade and Tarragon Chicken to A Most Indulgent Chocolate Cake.
Bruno Courrèges, the protagonist of Martin Walker's internationally acclaimed mystery series, is not only the local police chief of the idyllic French village of St. Denis, but he also happens to be an impassioned amateur chef. In this delightful cookbook, the culinary and cultural inspiration behind Bruno's fictional world comes to life. Featuring meals from the best-selling series, local recipes, charming anecdotes, and a history of the novels' French setting, Bruno's Cookbook invites readers into the bucolic life of Martin Walker and his wife, Julia Watson, and showcases their passion for the Périgord region's rich cuisine.
Brimming with truffles and pâté, Bruno's Cookbook features more than 90 recipes, including:
Red Onion Tarte Tatin (Tarte Tatin aux oignons rouges)
Gratin of Mussels with Parsley and Garlic (Gratin de moules)
Duck Breast Fillets with Honey and Mustard (Aiguillettes de canard au miel et à la moutarde)
Confit Potato Fries, Sarlat- Style (Pommes de terre à la sarladaises)
Walnut Meringue Cake (Gâteau meringué aux noix)
Homemade Blackcurrant Liqueur (Crème de cassis) 
MARTIN WALKER, after a long career of working in international journalism and for think tanks, now gardens, cooks, explores vineyards, writes, travels, and has never been busier.
JULIA WATSON is a journalist and novelist. She has written for United Press International, The Washington Post, and Gourmet magazine. The couple divide their time between Washington, D.C., and the Dordogne.
---
Martin Walker has a great deal to say about French food. Enjoy the conversation.