It was time to celebrate holiday mysteries at The Poisoned Pen. Barbara Peters, owner of the bookstore, welcomed authors Paula Munier and Spencer Quinn. Quinn's Up on the Woof Top, the latest Chet and Bernie mystery, is a Christmas story. Paula Munier's Home at Night is set at Halloween. There are signed copies of both books available in the Webstore. https://store.poisonedpen.com/
Here's the description of Up on the Woof Top.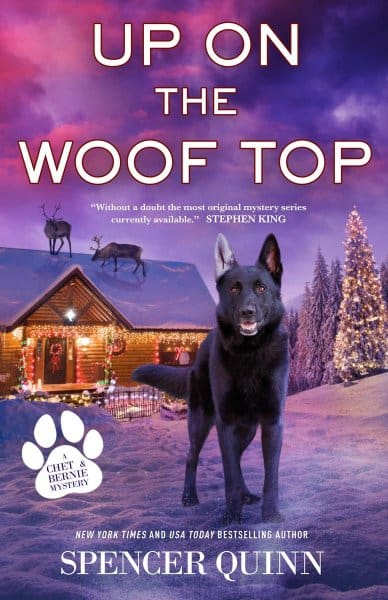 Chet the dog, "the most lovable narrator in all of crime fiction" (Boston Globe) and his human partner Bernie Little find themselves high in the mountains this holiday season to help Dame Ariadne Carlisle, a renowned author of bestselling Christmas mysteries, find Rudy, her lead reindeer and good luck charm, who has gone missing.
At Kringle Ranch, Dame Ariadne's expansive mountain spread, Chet discovers that he is not fond of reindeer. But the case turns out to be about much more than reindeer after Dame Ariadne's personal assistant takes a long fall into Devil's Purse, a deep mountain gorge. When our duo discovers that someone very close to Dame Ariadne was murdered in that same spot decades earlier, they start looking into that long ago unsolved crime.
But as they reach into the past, the past is also reaching out for them. Can they unlock the secrets of Dame Ariadne's life before they too end up at the bottom of the gorge? Is Rudy somehow the key?
Up on the Woof Top is a brand-new holiday adventure in Spencer Quinn's delightful New York Times and USA Today bestselling series that the Los Angeles Times called "nothing short of masterful."
---
Spencer Quinn is the pen name for Peter Abrahams, the Edgar-winning, New York Times and USA Today bestselling author of the Chet and Bernie mystery series, as well as the #1 New York Times bestselling Bowser and Birdie series for middle-grade readers. He lives on Cape Cod with his wife Diana and with his dogs Pearl and Dottie.
---
Here's the summary of Paula Munier's Home at Night.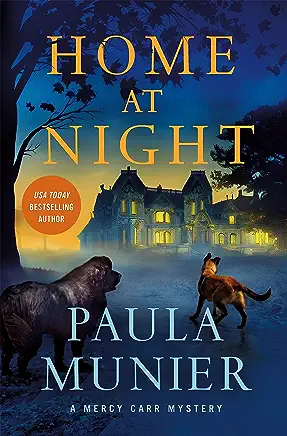 Beware the blackbirds…
It's Halloween in Vermont, winter is coming, and five humans, two dogs, and a cat are a crowd in Mercy Carr's small cabin. She needs more room—and she knows just the place: Grackle Tree Farm, with thirty acres of woods and wetlands and a Victorian manor to die for. They say it's haunted by the ghosts of missing children and lost poets and a murderer or two, but Mercy loves it anyway. Even when Elvis finds a dead body in the library.
There's something about Grackle Tree Farm that people are willing to kill for—and Mercy needs to figure out what before they move in. A coded letter found on the victim points to a hidden treasure that may be worth a fortune—if it's real. She and Captain Thrasher conduct a search of the old place—and end up at the wrong end of a Glock. A masked man shoots Thrasher, and she and Elvis must take him down before he murders them all. Under fire, she and Elvis manage to run the guy off, but not before they are wounded, leaving Thrasher fighting for his life in the hospital, Mercy on crutches, and Elvis on the mend.
Now it's up to Mercy and Troy and the dogs to track down the masked murderer in a county overflowing with leaf peepers, Halloween revelers, and treasure hunters and bring him to justice before he strikes again and the treasure is lost forever, along with the good name of Grackle Tree Farm….
---
PAULA MUNIER is the USA TODAY bestselling author of the Mercy Carr mysteries. A Borrowing of Bones, the first in the series, was nominated for the Mary Higgins Clark Award and named the Dogwise Book of the Year. Blind Search also won a Dogwise Award. The Hiding Place and The Wedding Plot both appeared on several "Best Of" lists. HOME AT NIGHT, the fifth book in the series, was inspired by her volunteer work as a Natural Resources Steward of New Hampshire. Along with her love of nature, Paula credits the hero dogs of Mission K9 Rescue, her own rescue dogs, and a deep affection for New England as her series' major influences. A literary agent by day, she's also written three popular books on writing: Plot Perfect, The Writer's Guide to Beginnings, and Writing with Quiet Hands, as well as Happier Every Day and the memoir Fixing Freddie: The True Story of a Boy, a Mom, and a Very, Very Bad Beagle. She lives in New England with her family and Bear the Newfoundland-retriever rescue, Bliss the Great Pyrenees-Australian cattle dog rescue, pandemic puppy Blondie, a Malinois rescue (much like Elvis in her books), and Ursula The Cat, a rescue torbie tabby who does not think much of the dogs. For more, check out www.paulamunier.com.