I don't even know what to say about the comedy event with the Goldberg brothers, writers Tod and Lee Goldberg. Definitely a comedy show. Tod Goldberg's new book is Gangsters Don't Die. Lee Goldberg's latest is Malibu Burning. There are signed copies of both books available in the Webstore. https://poisonedpen.com/
Here is the description of Gangsters Don't Die.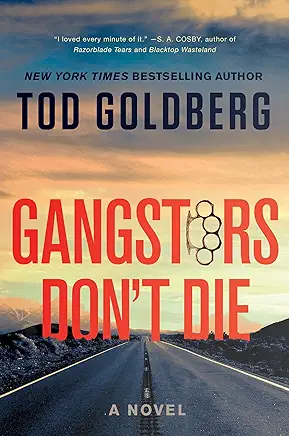 The "gloriously original" (The New York Times) and critically acclaimed crime series starring a Chicago hitman hiding out as a rabbi in the desert suburbs of Las Vegas comes to its thrilling conclusion
Mafia hit-man-turned-rabbi Sal Cupertine is ready to get out of the life. But it's not going to be easy. His once-brilliant plan to pass himself off as Rabbi David Cohen is unraveling. Enemies on both sides of the law are hot on his trail. His wife and son are unreachable in witness protection and are probably in danger. In order to find his family, get out of the desert alive, and salvage his long-sought-after happy ending, Sal is going to have to confront some very bad people from his past.
Native American kingpin Peaches Pocotillo has wrested control of Chicago's mob family while expanding his criminal empire in the west, and now seeks to settle an old score with Sal. These two antiheroes have a history that stretches back decades, and the blood feud between Peaches and Sal will lead them to a violent showdown deep in the heart of the low desert.
As complications cast old revelations in a new light, including one that stretches back to the long-ago death of Sal's infamous gangster father Dark Billy Cupertine, Sal must team up with some unlikely allies—and confront the reality of who he has become—in this stunning conclusion to the popular and critically acclaimed Gangsterland trilogy.
---
TOD GOLDBERG is the author of more than a dozen books, including Gangsterland, a finalist for the Hammett Prize; Gangster Nation; and The Low Desert: Gangster Stories, named a Southwest Book of the Year and a finalist for several literary prizes. He lives in Indio, California, where he directs the low-residency MFA in creative writing and writing for the performing arts at the University of California, Riverside.
---
Here's the summary of Lee Goldberg's Malibu Burning.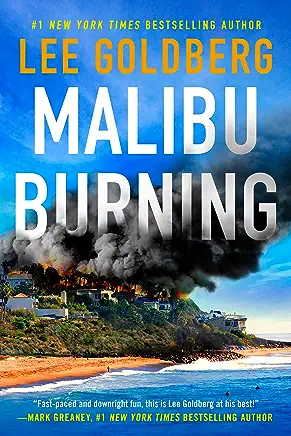 For a professional criminal and a relentless arson investigator, fear and revenge spread like wildfire in an incendiary thriller by #1 New York Times bestselling author Lee Goldberg.
Hell comes to Southern California every October. It rides in on searing Santa Ana winds that blast at near hurricane force, igniting voracious wildfires. Master thief Danny Cole longs for the flames. A tsunami of fire is exactly what he needs to pull off a daring crime and avenge a fallen friend.
As the most devastating firestorms in Los Angeles' history scorch the hills of Malibu, relentless arson investigator Walter Sharpe and his wild card of a new partner, Andrew Walker, a former US marshal, suspect that someone set the massive blazes intentionally, a terrifying means to an unknown end.
While the flames rage out of control, Danny pursues his brilliant scheme, unaware that Sharpe and Walker are closing in. But when they all collide in a canyon of fire, everything changes, pitting them against an unexpected enemy within an inescapable inferno.
---
Lee Goldberg is a two-time Edgar Award and two-time Shamus Award finalist and the #1 New York Times bestselling author of more than forty novels, including the Eve Ronin series, the Ian Ludlow series, and the first five books in the Fox & O'Hare series, which he coauthored with Janet Evanovich. He has also written and/or produced many TV shows, including Diagnosis Murder, SeaQuest, and Monk, and is the cocreator of the Hallmark movie series Mystery 101. As an international television consultant, he has advised networks and studios in Canada, France, Germany, Spain, China, Sweden, and the Netherlands on the creation, writing, and production of episodic series. You can find more information about Lee and his work at www.leegoldberg.com.
---
If you're a fan of the brothers, you'll enjoy all the humor in this event.