Barbara Peters, owner of The Poisoned Pen, recently welcomed Taylor Moore back for another author event. Moore's latest Garrett Kohl novel is Ricochet. There are signed copies of Ricochet available in the Webstore. https://bit.ly/3L2OktP
Here's the description of Ricochet.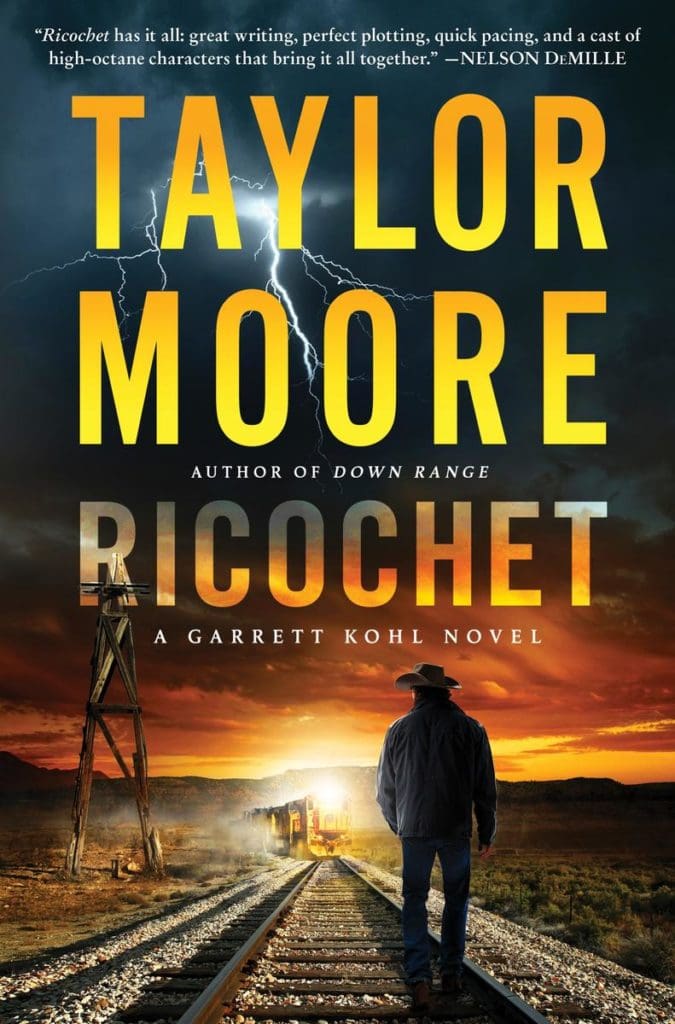 DEA Special Agent Garrett Kohl and his CIA team embark on an off-the-books investigation and partner up with a ragtag crew of outcasts and outlaws to stop extortionists and dismantle their operation before complete devastation rains down in their Texas High Plains community in this pulse-pounding thriller for fans of C. J. Box.
After hunting down a rogue spy as part of an elite CIA counterespionage unit, Garrett Kohl returns home to Texas in hopes of settling down and carving out a normal life. While learning the ropes of fatherhood, falling deeper in love with his high school crush, and rebuilding his wildfire ravaged cattle ranch, he is approached in secret by an engineer working at a nearby nuclear weapons plant, who is in desperate need of his help. Utilizing a unique skill set—abilities Garrett has honed as a deep cover narcotics agent and former Green Beret—he embarks on an off-the-books investigation and learns that Iranian operatives are blackmailing weapons facility employees and potentially planning a devastating act of sabotage and destruction.
Already engaged in an intense shadow war with Tehran and their Quds Force spies, Garrett's CIA team rallies to take down the extortionists and dismantle their operation. But before they can get their mission under way, enemy commandos hijack a train carrying nuclear weapons, and activate a lone wolf assassin to murder the visiting U.S. Secretary of Defense. Caught flatfooted by the sudden attack, Garrett musters the only help he can find—a ragtag crew of outcasts and outlaws, some of whom he'd once put behind bars. Although they're from different walks of life, and opposite sides of the law, they hold in common the deep desire to protect their homes, their families, and their way of life on the remote, wild, and alluring Texas High Plains.
---
Taylor Moore is the author of Firestorm and Down Range, which was nominated for the Barry Award for Best First Novel, named a Strand Magazine Best Mystery of the year, and selected for the Texas Library Association's Lariat Reading List. He is a sixth-generation Texan who grew up on a farm and ranch northwest of Houston and is a former CIA Intelligence Officer who worked in both analysis and operations and later consulted for the Department of Defense in Theater Security Cooperation, Force Protection, and Counternarcotics. He now lives in the Texas Panhandle with his wife and two children, where he is a full-time author, screenwriter, and speaker. Ricochet is Moore's third novel featuring Garrett Kohl.
---
Enjoy the conversation about the Comanche and Texas, as well as Taylor Moore's books.