Recently, Barbara Peters, owner of The Poisoned Pen, welcomed Alan Gordon who writes the Sparks & Bainbridge series as Allison Montclair. Montclair's latest book is The Lady from Burma. There are signed copies of The Lady from Burma available in the Webstore. https://bit.ly/459AkWK
Here's the summary of The Lady from Burma.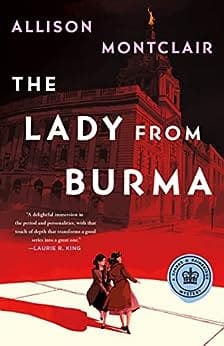 In Allison Montclair's The Lady from Burma, murder once again stalks the proprietors of The Right Sort Marriage Bureau in the surprisingly dangerous landscape of post-World War II London…

In the immediate post-war days of London, two unlikely partners have undertaken an even more unlikely, if necessary, business venture – The Right Sort Marriage Bureau. The two partners are Miss Iris Sparks, a woman with a dangerous – and never discussed – past in British intelligence and Mrs. Gwendolyn Bainbridge, a war widow with a young son entangled in a complicated aristocratic family. Mostly their clients are people trying to start (or restart) their lives in this much-changed world, but their new client is something different. A happily married woman has come to them to find a new wife for her husband. Dying of cancer, she wants the two to make sure her entomologist, academic husband finds someone new once she passes.
Shortly thereafter, she's found dead in Epping Forest, in what appears to be a suicide. But that doesn't make sense to either Sparks or Bainbridge. At the same time, Bainbridge is attempting to regain legal control of her life, opposed by the conservator who has been managing her assets – perhaps not always in her best interest. When that conservator is found dead, Bainbridge herself is one of the prime suspects. Attempting to make sense of two deaths at once, to protect themselves and their clients, the redoubtable owners of the Right Sort Marriage Bureau are once again on the case.
---
ALLISON MONTCLAIR grew up devouring hand-me-down Agatha Christie paperbacks and James Bond movies. As a result of this deplorable upbringing, Montclair became addicted to tales of crime, intrigue, and espionage. She now spends her spare time poking through the corners, nooks, and crannies of history, searching for the odd mysterious bits and transforming them into novels of her own. She is the author of the Sparks & Bainbridge historical mystery series, which begins with The Right Sort of Man.
---
Enjoy the discussion of women, British history, the post-war years, and Montclair's characters.