Barbara Peters, owner of The Poisoned Pen, recently welcomed debut author Bruce Borgos to the bookstore. Borgos' first novel is The Bitter Past. There are signed copies of The Bitter Past available in the Webstore. https://bit.ly/3QnTaoL
Here's the description of this fascinating novel.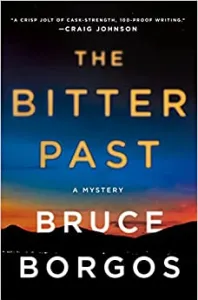 In the tradition of Craig Johnson and C. J. Box, Bruce Borgos's The Bitter Past begins a compelling series set in the high desert of Nevada featuring Sheriff Porter Beck…
Porter Beck is the sheriff in the high desert of Nevada, north of Las Vegas. Born and raised there, he left to join the Army, where he worked in Intelligence, deep in the shadows in far off places. Now he's back home, doing the same lawman's job his father once did, before his father started to develop dementia. All is relatively quiet in this corner of the world, until an old, retired FBI agent is found killed. He was brutally tortured before he was killed and clues at the scene point to a mystery dating back to the early days of the nuclear age. If that wasn't strange enough, a current FBI agent shows up to help Beck's investigation.
In a case that unfolds in the past (the 1950s) and the present, it seems that a Russian spy infiltrated the nuclear testing site and now someone is looking for that long-ago, all-but forgotten person, who holds the key to what happened then and to the deadly goings on now.
---
BRUCE BORGOS lives and writes from the Nevada desert where he works hard every day to prove his high school guidance counselor had good instincts when he said "You'll never be an astronaut." He has a degree in political science which mostly served to dissuade him from a career in law while at the same time tormenting his wife with endless questions about how telephones work. When not writing, you can usually find him at the local wine store. He is the author of The Bitter Past.
---
It's a fascinating discussion about the defense industry, radiation, building the bombs; timely topics right now. Check out the event.