Although Dave Barry already appeared at The Poisoned Pen, it's always fun to read an interview with the funny storyteller. Before the interview, you can find signed copies of Swamp Story in the Webstore. https://bit.ly/3popQmN
Here's Michael Barson's interview with Dave Barry from http://Bookreporter.com.
Interview: May 11, 2023
Dave Barry is the author of more bestsellers than you can count on two hands, including LESSONS FROM LUCY, DAVE BARRY'S COMPLETE GUIDE TO GUYS, DAVE BARRY TURNS 40 and DAVE BARRY IS NOT MAKING THIS UP. SWAMP STORY, his latest Florida caper, is full of oddballs and more twists and turns than a snake slithering away from a gator. Michael Barson, Senior Publicity Executive at Melville House, was one of Barry's publicists at G.P. Putnam's Sons from 1996 to 2014, so he was thrilled to have an opportunity to catch up with him. In this interview, Barry explains why Florida has been the subject of so many comic novels over the past three decades, discusses the advantages and disadvantages of collaborating with other authors, and gives his two cents on the current state of the book industry.
Question: SWAMP STORY is — rather amazingly — your 16th novel. I well remember the excitement when your first one, BIG TROUBLE, was published in September 1999. What do you know now as a novelist that you'd like to share with that 1999 neophyte?
Dave Barry: BIG TROUBLE got made into a major motion picture pretty quickly (by Hollywood standards) after the book came out. If I could travel back from 2023 and talk to the 1999 me, I think the main thing I'd say is, "Don't expect that movie thing to ever happen again."
If I had additional time, I would remind the 1999 me that gum care is very important.
Q: What IS it about Florida that has lent itself to so many richly comic novels over the past 30 years? Not just your own work, but also the books by Carl Hiaasen, Tim Dorsey and Tom Cooper. It's a virtual cottage industry, the likes of which no other state can claim. Or as you put it, "Best. State. Ever."
DB: Florida is an unending cavalcade of weirdness. There are many reasons — the heat, the humidity, the tourists, the constant influx of new residents, the drugs, the abundance of large scaly carnivorous wildlife. It's just a sweltering stew. It's great for novelists. As Carl Hiaasen says, you don't need an imagination. You just need a subscription to the newspaper.
Q: With nearly 40 years of being a published author under your belt, you've experienced so many changes in the book industry. What has been the biggest improvement in it since the '80s? And what change to the industry do you rue the most?
DB: I honestly can't think of any major improvements. The process is still basically the same: You write a book; you hope somebody publishes it; you hope people buy it. I think most of the major changes have been negative — fewer publishers, and an emphasis on publishing blockbusters, so that newer authors have a tougher time getting through the door. And independent bookstores, which are the soul of the book world, have had a tough time battling the chains and, of course, Amazon.
Q: You've collaborated with several authors over the years, with Ridley Pearson leading the way with eight of your YA fantasy novels starring Peter Pan. Do you find it easier or more difficult to share the creative duties with another writer?
DB: It's both easier and harder. It's easier because you have somebody to talk ideas over with, and somebody to share the writing. It can be harder when you disagree over what to do next; you and your collaborator HAVE to be good friends, so you can work out differences without rancor. I've been really lucky in that the guys I've collaborated with — Ridley Pearson, Alan Zweibel and Adam Mansbach — are both talented and reasonable. Except for Mansbach.
Q: If SWAMP STORY is made into a film, the way BIG TROUBLE was, which character do you feel you're best suited to portray? Be honest.
DB: Definitely Phil. Like me, he's old, he comes from the newspaper world, and he's a dad. He's also deeply flawed, unlike me. I'm basically perfect.
Q: When is the updated edition of DAVE BARRY TURNS 40 due to appear?
DB: No sooner than 50 years after my death.
Q: Why isn't Bobby Vinton's 1964 hit "Clinging Vine" given a full chapter in DAVE BARRY'S BOOK OF BAD SONGS?
DB: It is! To hear it, you have to play Chapter Six backward. (There's also a tribute to Yoko.)
---
Here's the description of Swamp Story.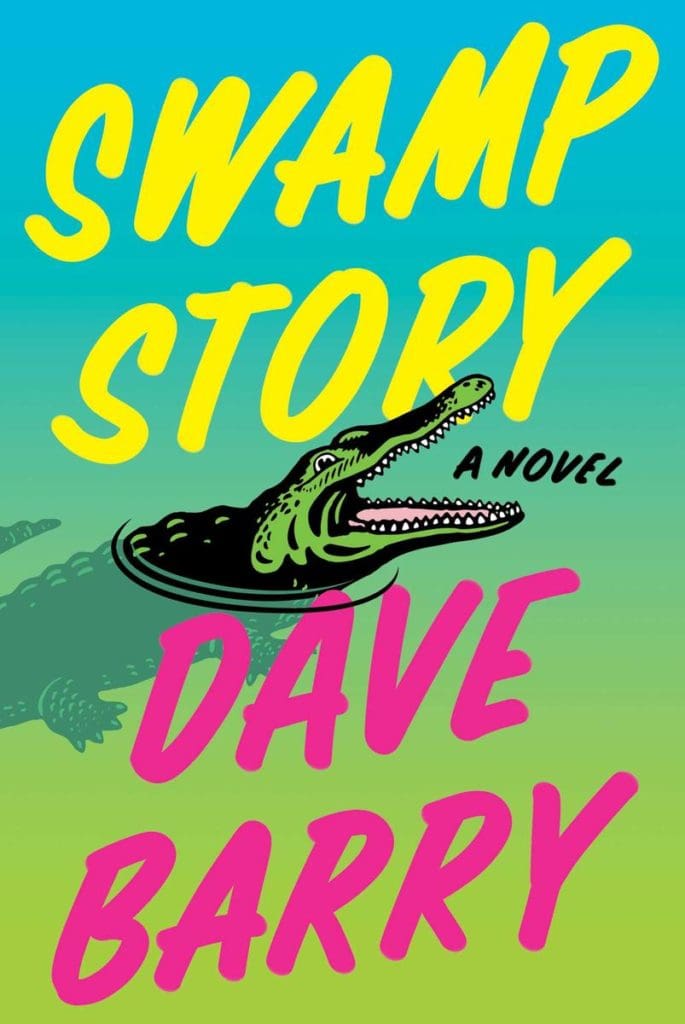 Pulitzer Prize–winning New York Times bestselling author and actual Florida ManDave Barry returns with a Florida caper full of oddballs and more twists and turns than a snake slithering away from a gator.
Jesse Braddock is trapped in a tiny cabin deep in the Everglades with her infant daughter and her ex-boyfriend, a wannabe reality TV star who turned out to be a lot prettier on the outside than on the inside. Broke and desperate for a way out, Jesse stumbles across a long-lost treasure, which could solve all her problems—if she can figure out how to keep it. The problem is, some very bad men are also looking for the treasure, and they know Jesse has it.
Meanwhile, Ken Bortle of Bortle Brothers Bait and Beer has hatched a scheme to lure tourists to his failing store by making viral videos of the "Everglades Melon Monster." The Monster is in fact an unemployed alcoholic newspaperman named Phil wearing a Dora the Explorer costume head. Incredibly, this plan actually works, inspiring a horde of TikTokers to swarm into the swamp in search of the monster at the same time villains are on the hunt for Jesse's treasure. Amid this mayhem, a presidential hopeful arrives in the Everglades to start his campaign. Needless to say, it does not go as planned. In fact, nothing in this story goes as planned. This is, after all, Florida.
---
Dave Barry is the author of more bestsellers than you can count on two hands, including Lessons from Lucy, Dave Barry's Complete Guide to Guys, Dave Barry Turns Forty, and Dave Barry Is Not Making This Up. A wildly popular syndicated columnist best known for his booger jokes, Barry won the 1988 Pulitzer Prize for commentary. He lives in Miami.