Barbara Peters, owner of The Poisoned Pen, makes it clear one of the things she enjoys about the bookstore events is the opportunity to introduce new authors to readers. Gillian Flynn is publisher of a new imprint, Gillian Flynn Books at Zando Projects. She was at the bookstore to introduce Margot Douaihy, author of Scorched Grace. You can find signed copies of this Hot Book of the Week in the Webstore at https://tinyurl.com/5xkvyw67
Here's the description of Scorched Grace.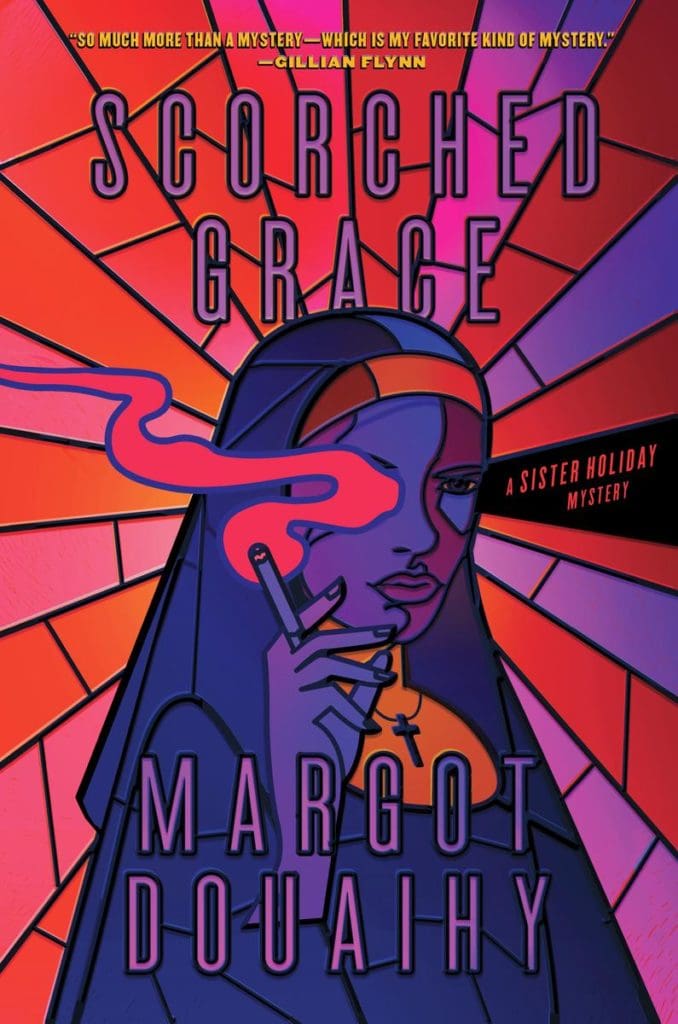 Sister Holiday, a chain-smoking, heavily tattooed, queer nun, puts her amateur sleuthing skills to the test in this "unique and confident" debut crime novel (Gillian Flynn).
When Saint Sebastian's School becomes the target of a shocking arson spree, the Sisters of the Sublime Blood and their surrounding New Orleans community are thrust into chaos.
Patience is a virtue, but punk rocker turned nun Sister Holiday isn't satisfied to just wait around for officials to return her home and sanctuary to its former peace, instead deciding to unveil the mysterious attacker herself. Her investigation leads her down a twisty path of suspicion and secrets, turning her against colleagues, students, and even fellow Sisters along the way. And to piece together the clues of this high-stakes mystery, she must at last reckon with the sins of her own past.
An exciting start to a bold series that breathes new life into the hard-boiled genre, Scorched Grace is a fast-paced and punchy whodunnit that will keep readers guessing until the very end.
---
Margot Douaihy is a Lebanese American originally from Scranton, PA, now living in Northampton, MA. She received her PhD in creative writing from the University of Lancaster in the UK. She is the author of the poetry collections Bandit/Queen: The Runaway Story of Belle Starr, Scranton Lace, and Girls Like You. She is a founding member of the Creative Writing Studies Organization and an active member of Sisters in Crime and the Radius of Arab American Writers. A recipient of the Mass Cultural Council's Artist Fellowship, she was a finalist for a Lambda Literary Award, Aesthetica Magazine's Creative Writing Award, and the Ernest Hemingway Foundation's Hemingway Shorts. Her writing has been featured in Queer Life, Queer Love; Colorado Review; Diode Editions; The Florida Review; North American Review; PBS NewsHour; Pittsburgh Post-Gazette; Portland Review; Wisconsin Review; and elsewhere. Margot is an Assistant Professor in Popular Fiction Writing & Literature with Emerson College in Boston. As a coeditor of the Elements in Crime Narrative Series with Cambridge University Press, she strives to reshape crime writing scholarship, with a focus on the contemporary, the future, inclusivity, and decoloniality.
---
Enjoy the conversation as Gillian Flynn introduces Margot Douaihy.