Brian Andrews and Jeffrey Wilson are the authors of Dempsey, the seventh Tier One thriller, but it's their first appearance for The Poisoned Pen. According to Barbara Peters, owner of the bookstore, the series is being developed for film and TV. Peters welcomed both authors, along with Don Bentley, who acted as guest host for the event. You can order a copy of Dempsey through the Webstore. http://bit.ly/3IQDW7x
Here's the summary of Dempsey.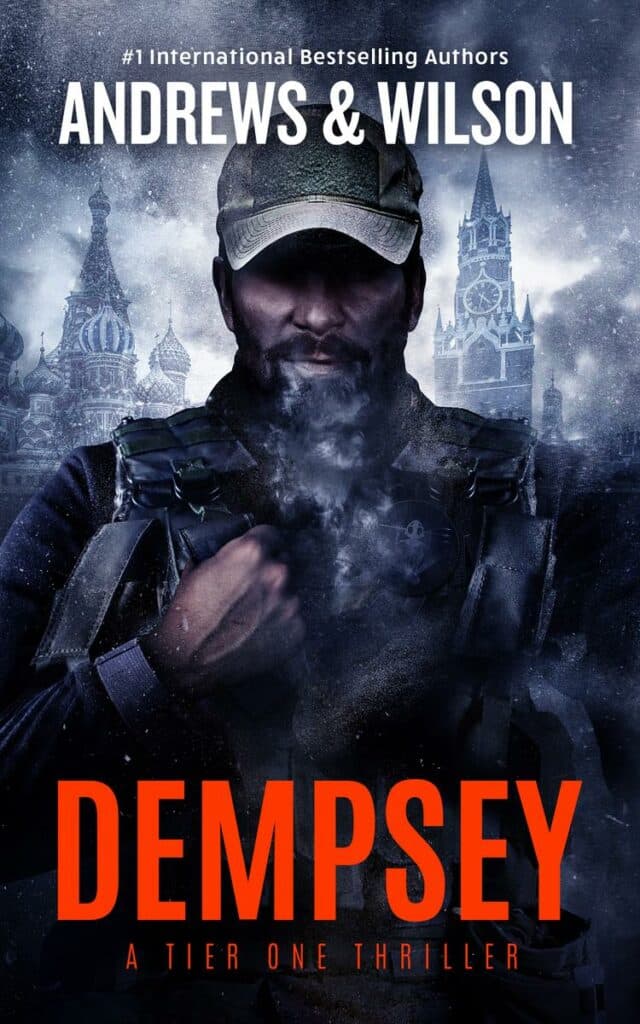 The world is more volatile, unpredictable, and dangerous than ever before. To stop the architect of this chaos, Dempsey is given the most dangerous tasking of his career … a mission only he can complete against an adversary he must face alone.
After Task Force Ember's successful intervention in Ukraine, John Dempsey disappears without a trace—with no notice or explanation given to his teammates. Spotty intelligence eventually places him in Russia where he is rumored to have been captured by the Russian FSB and is now presumed dead. Mourning his loss, Ember is forced to pick up the pieces, restructure, and continue their mission of keeping America safe. As the president's "go-to" black ops asset, Ember is directed to find and finish off the Russian spymaster Arkady Zhukov and any last remnants of Zeta cell.
Unbeknownst to his teammates, Dempsey is very much alive and on mission. At the behest of Vice President Jarvis, he is deep undercover—in the heart of Russia's nexus of organized crime and politics. For his mission to succeed, he will have to team up with a man who has been his adversary—the one man in all the world he most wants dead. The risks are higher than ever as Dempsey pursues a high-stakes plot of Russian regime change. And if he fails, the Kremlin's retribution will be swift and terrible and certain to drag the world into World War III.
AWARDS
• Real Book Spy Pick
---
Jeffrey Wilson has worked as an actor, firefighter, paramedic, jet pilot, and diving instructor, as well as a vascular and trauma surgeon. He served in the US Navy for fourteen years and made multiple deployments as a combat surgeon. Wilson is the author of three award-winning supernatural thrillers: The Traiteur's Ring, The Donors, and Fade to Black. He and his wife live in Southwest Florida with their four children.
Navy veterans Brian Andrews and Jeffrey Wilson are the writing team behind the number one bestselling Tier One series. Brian is a nuclear engineer and Park Leadership Fellow who served as an officer on a fast-attack submarine. Jeff is a trauma/vascular surgeon who conducted combat operations with an East Coast–based SEAL team. Their other novels include the Sons of Valor and Shepherds series and installments in WEB Griffin's Presidential Agent series. Sign up for their newsletter at www.andrews-wilson.com.
---
Here's a short biography of guest host and author Don Bentley.
Don Bentley spent a decade as an Army Apache helicopter pilot, and while deployed in Afghanistan was awarded the Bronze Star and the Air Medal with "V" device for valor. Following his time in the military, Bentley worked as an FBI special agent focusing on foreign intelligence and counterintelligence and was a Special Weapons and Tactics (SWAT) team member.
And, here's an announcement readers might be interested in seeing.
#1 New York Times bestselling author Kyle Mills, who first took over the late Vince Flynn's iconic series in 2015 and has since contributed eight consecutive bestsellers, is set to depart the Mitch Rapp franchise following his ninth and final book in the series, Code Red, later this year. Taking over will be Don Bentley, best known for his own Matt Drake series and the work he's done in Tom Clancy's Jack Ryan Jr series, including Tom Clancy Flashpoint, which will hit stores in May.
---
Enjoy the conversation with Brian Andrews, Jeffrey Wilson, and Don Bentley.