Kate Alice Marshall's debut adult crime thriller, What Lies in the Woods, is The Poisoned Pen's January Crime Collector's Book of the Month. Barbara Peters, owner of the bookstore, recently welcomed Marshall to the bookstore to discuss What Lies in the Woods. There are signed copies of the book available in the Web Store. https://tinyurl.com/ms3zfh3a
Here's the description of What Lies in the Woods.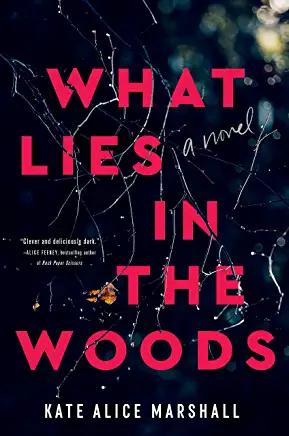 They were eleven when they sent a killer to prison. They were heroes . . . but they were liars.

Kate Alice Marshall's What Lies in the Woods is a thrilling novel about friendship, secrets, betrayal, and lies – and having the courage to face the past.
"Clever and deliciously dark." —Alice Feeney, bestselling author of Rock Paper Scissors
"Shines an incisive light on the secrets of a small-town community…Great writing and boldly drawn characters bring a terrifying tale to all-too-vivid life." —Kirkus, starred review
Naomi Shaw used to believe in magic. Twenty-two years ago, she and her two best friends, Cassidy and Olivia, spent the summer roaming the woods, imagining a world of ceremony and wonder. They called it the Goddess Game. The summer ended suddenly when Naomi was attacked. Miraculously, she survived her seventeen stab wounds and lived to identify the man who had hurt her. The girls' testimony put away a serial killer, wanted for murdering six women. They were heroes.
And they were liars.
For decades, the friends have kept a secret worth killing for. But now Olivia wants to tell, and Naomi sets out to find out what really happened in the woods—no matter how dangerous the truth turns out to be.
"What Lies In the Woods is a gorgeous fever dream of a novel about the dangers lurking in the hearts and imaginations of little girls. Kate Alice Marshall deftly charts a winding path through her creepy woods, doubling back and changing course to build a labyrinth of secrets and lies in which I was delighted to lose myself for hours. Hands down, it's the best thriller I've read in a long, long time."—Chandler Baker, bestselling author of The Husbands
---
Kate Alice Marshall is the author of the young adult novels I Am Still Alive, Rules for Vanishing, and Our Last Echoes, as well as the Secrets of Eden Eld middle grade series. She lives outside of Seattle, where she spends her time playing board games, tending a chaotic vegetable garden, and wrangling dogs and children.
---
Enjoy the conversation from The Poisoned Pen.