Jenn McKinlay's Hat Shop Mysteries are back! She recently stopped by The Poisoned Pen Bookstore to talk about the new one in the series, Fatal Fascinator. Signed copies are available in the Web Store. https://tinyurl.com/3w3ftw94
Here's the description of Fatal Fascinator.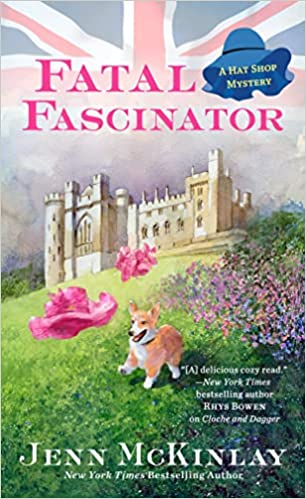 Hip hip beret! Hatmakers Scarlett Parker and Vivian Tremont return and must collar a killer when a castle wedding goes awry in New York Times bestselling author Jenn McKinlay's new Hat Shop Mystery.

It's wedding season and Viv's longtime frenemy Piper May is getting married. She convinces Viv and Scarlett to take on the job of designing the headpieces for her "wedding of the year." The well-to-do bride and her entourage are delighted to have Viv and Scarlett as their famous hat designer guests, but the hat-making pair are really just looking forward to a getaway at a castle in Sussex. It is to be a weekend full of events, culminating in the big ceremony.

Unfortunately, on the first night of the festivities, the groom is found murdered, and the joyous holiday becomes the stuff of nightmares as no one is allowed to leave the castle until the investigation is complete. Although Scarlett assures Harrison Wentworth, her fiancé, that she and Viv will stay out of harm's way, circumstances force them to step in when a secret affair between the deceased groom and a bridesmaid comes to light, and the murderer takes another life. Scarlett and Viv vow to unveil the killer's identity before the wedding adds another to its death toll.
---
Jenn McKinlay is the award-winning, New York Times, USA Today, and Publishers Weekly bestselling author of several mystery and romance series. Her work has been translated into multiple languages in countries all over the world. She lives in sunny Arizona in a house that is overrun with kids, pets, and her husband's guitars.
---
Jenn's events are always fun. Check it out.