As the year and The Poisoned Pen's events wind down, I'll add an occasional link to another article. Because Barbara Peters, owner of the bookstore, was a librarian, I'm a librarian, and several others on the bookstore staff were, today I'm turning to CrimeReads, and Victoria Gilbert's recent article, "8 Great Mystery Series Featuring Librarians as Amateur Detectives". You can find it here. https://tinyurl.com/274zezm3
Gilbert writes a series featuring a librarian, and, in July, she'll launch a second one, the Hunter & Clewe series. Death in the Margins, her latest Blue Ridge Library Mystery, was just released. You can find Victoria Gilbert's mysteries in the Web Store. https://tinyurl.com/w548sw5e
Here's Death in the Margins.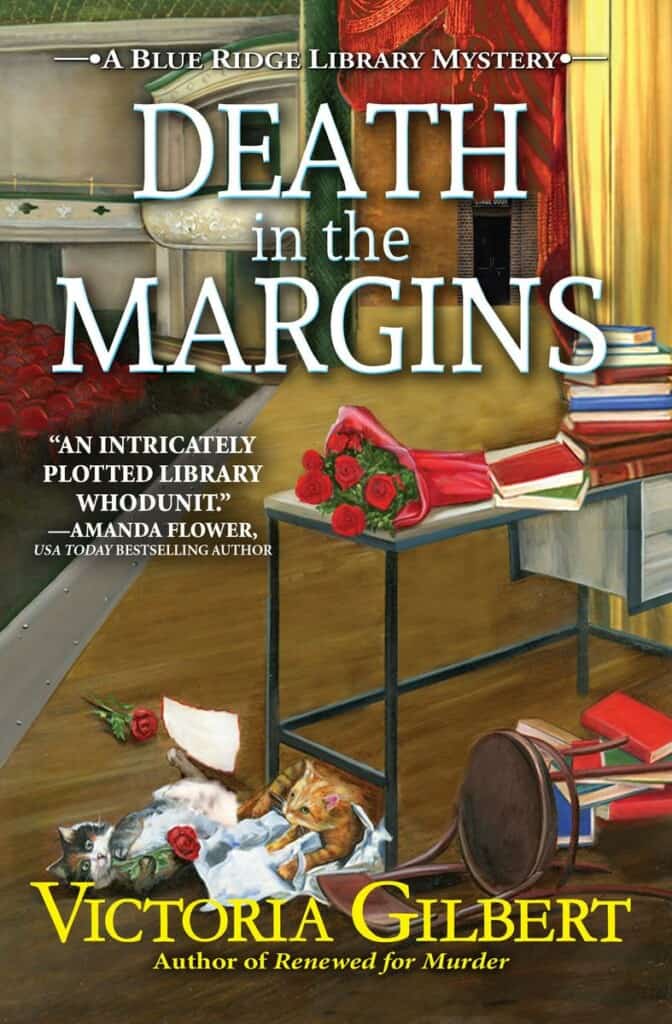 The theater is no place for murder—but a case of backstage betrayal drags library director Amy Webber into a case that could mean curtains in critically acclaimed author Victoria Gilbert's Blue Ridge Library mystery.
It's early summer, and while Richard Muir and his dance partner, Karla, are preparing their new choreographic piece, Richard's wife, Amy, is gathering the dance's source materials. Based on folktales and the music of the Blue Ridge Mountains, the production is set to premiere at an old cinema that has been converted to a theater. But when dancer Meredith Fox—Richard's former fiancé—is found dead backstage, Amy is once again propelled into a murder case that threatens the careers and lives of those she loves.

After Amy teams up with Chief Deputy Brad Tucker and the sheriff's department to discover the killer, they find that there's no shortage of suspects: Meredith's wealthy ex-husband, several fellow dancers, a romantically spurned accompanist, and others whom the talented but haughty dancer dismissed or betrayed over the years.

With Richard and Karla's help, and information gleaned from locals who know a wealth of small-town secrets, Amy desperately tries to unveil the killer before the premiere. But she's pursuing a ruthless murderer who's willing to kill again—and who might just be waiting for Amy in the wings.
---
Victoria Gilbert, raised in the shadow of the Blue Ridge Mountains, turned her early obsession with reading into a dual career as an author and librarian. Victoria has worked as a reference librarian, research librarian, and library director. When not writing or reading, she likes to spend her time watching films, gardening, or traveling. She is a member of Sisters in Crime and International Thriller Writers and lives in North Carolina.