It's always fascinating to listen to Dana Stabenow talk about Egyptian history and Cleopatra. She recently appeared at The Poisoned Pen to talk about her now book Theft of an Idol. There are signed copies of the book in the Web Store. https://tinyurl.com/yt5nsapc
Here's the summary of Theft of an Idol.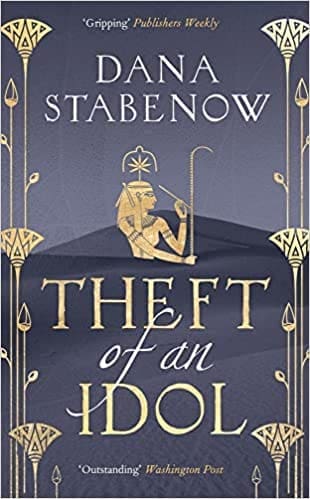 When Cleopatra's most beloved actress disappears, her new Eye of Isis must solve a case that will lead to the darkest corners of Alexandria.
From the palaces of Alexandria reigns Cleopatra "" seventh of her name, avatar of the goddess Isis, ruler of the Kingdom of Egypt "" surrounded by riches untold. Through the streets of her great city bustle scholars and sailors, politicians and priests. For those with the means, it is a comfortable life.
But not all are invited to share in the wealth of Egypt's first city. For the peasants and farmers, their lives lie in the hands of the gods and the harvest. Unless, that is, they can find other methods to feed their families. Other, less savory methods.
When Herminia, one of Alexandria's most beloved actresses, disappears on the eve of a great performance, Cleopatra sets Tetisheri, her Eye, to investigate. In her search for the truth, Tetisheri will uncover a mystery that will take her to the city's darkest corners…
---
Dana Stabenow was born in Anchorage, Alaska and raised on a 75-foot fishing tender. She knew there was a warmer, drier job out there somewhere and found it in writing. Her first Kate Shugak book, A Cold Day for Murder, received an Edgar Award from the Crime Writers of America. She lives in Homer, Alaska. Find her online at stabenow.com.
---
Enjoy the conversation with Dana Stabenow and Barbara Peters, owner of The Poisoned Pen.