David Baldacci recently "visited" The Poisoned Pen virtually to discuss his latest Memory Man novel, Long Shadows. Barbara Peters, owner of the bookstore, admits she didn't see the ending coming, so you might want to pick up a copy through the Web Store. https://bit.ly/3T6Dsx6
Here's the description of Long Shadows.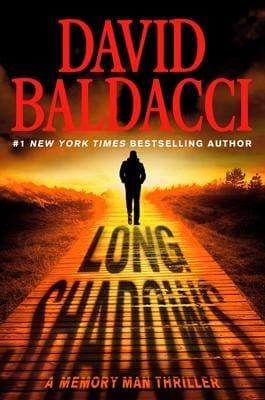 From the author of The 6:20 Man, "Memory Man" Amos Decker—an FBI consultant with perfect recall—delves into a bewildering double homicide in this new thriller in David Baldacci's #1 New York Times bestselling series.
 
When Amos Decker is called to South Florida to investigate a double homicide, the case appears straightforward: A federal judge and her bodyguard have been found dead, the judge's face sporting a blindfold with two eye holes crudely cut out, a clear sign that she'd made one too many enemies over her years on the bench.
 
What at first seems cut and dry is anything but: Not only did the judge have more enemies than Decker can count—from violent gang members, drug dealers, and smugglers to a resentful ex-husband—but the bodyguard presents additional conundrums that muddy the waters even further. Who was the real target in this vicious attack?
 
Meanwhile, Decker must contend with a series of unsettling changes, including a new partner—Special Agent Frederica "Freddie" White—and a devastating event that brings Decker's own tragic past back to the present . . . and forces him to reckon with his future. As potential witnesses start disappearing, Decker and White are inexorably pulled down a twisted tunnel of secrets, crimes, and scandal—at the end of which lies Decker's deadliest threat yet.
---
DAVID BALDACCI is a global #1 bestselling author, and one of the world's favorite storytellers. His books are published in over forty-five languages and in more than eighty countries, with 150 million copies sold worldwide. His works have been adapted for both feature film and television. David Baldacci is also the cofounder, along with his wife, of the Wish You Well Foundation, a nonprofit organization dedicated to supporting literacy efforts across America. Still a resident of his native Virginia, he invites you to visit him at DavidBaldacci.com and his foundation at WishYouWellFoundation.org.
---
Enjoy the conversation between David Baldacci and Barbara Peters.