It was the 33rd anniversary of The Poisoned Pen Bookstore itself. Barbara Peters, owner of the bookstore, welcomed John Sandford as guest author. It truly was a celebration. John Sandford appeared with his latest book that unites Lucas Davenport and Virgil Flowers. Righteous Prey is the Hot Book of the Week at the bookstore, and signed copies of the book are available through the Web Store. https://bit.ly/3SwXArI
Here's the summary of Righteous Prey.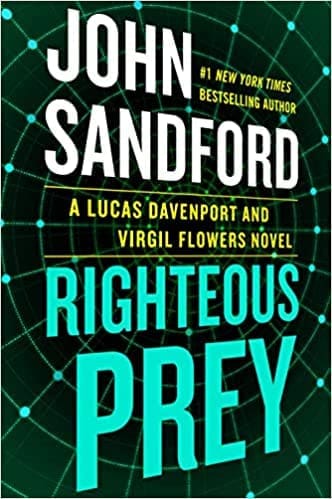 Lucas Davenport and Virgil Flowers are up against a powerful vigilante group with an eye on vengeance in this stunning new novel from the #1 New York Times bestselling author.
"We're going to murder people who need to be murdered."
So begins a press release from a mysterious group known only as "The Five," shortly after a vicious predator is murdered in San Francisco. The Five is made up of vigilante killers who are very bored…and very rich. They target the worst of society—rapists, murderers, and thieves—and then use their unlimited resources to offset the damage done by those who they've killed, donating untraceable Bitcoin to charities and victims via the dark net. The Five soon become popular figures in the media …though their motives may not be entirely pure.
After The Five strike again in the Twin Cities, Virgil Flowers and Lucas Davenport are sent in to investigate. And they soon have their hands full–the killings are smart and carefully choreographed, and with no apparent direct connection to the victims, the killers are virtually untraceable. But if anyone can destroy this group, it will be the dynamic team of Davenport and Flowers.
---
John Sandford is the pseudonym for the Pulitzer Prize-winning journalist John Camp. He is the author of thirty-one Prey novels; four Kidd novels; twelve Virgil Flowers novels; three YA novels coauthored with his wife, Michele Cook; and three other books.
---
If you're a fan of John Sandford, you'll enjoy this conversation.