John Charles recently welcomed Kristina McMorris, author of The Ways We Hide, to The Poisoned Pen. There are signed copies of the book in the Web Store. https://bit.ly/3Bda9RB
Here's the description of The Ways We Hide.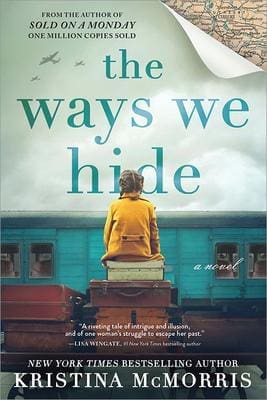 From the New York Times bestselling author of Sold On A Monday—over a million copies sold!—comes a sweeping World War II tale of an illusionist whose recruitment by British intelligence sets her on a perilous, heartrending path.
As a little girl raised amid the hardships of Michigan's Copper Country, Fenna Vos learned to focus on her own survival. That ability sustains her even now as the Second World War rages in faraway countries. Though she performs onstage as the assistant to an unruly escape artist, behind the curtain she's the mastermind of their act. Ultimately, controlling her surroundings and eluding traps of every kind helps her keep a lingering trauma at bay.
Yet for all her planning, Fenna doesn't foresee being called upon by British military intelligence. Tasked with designing escape aids to thwart the Germans, MI9 seeks those with specialized skills for a war nearing its breaking point. Fenna reluctantly joins the unconventional team as an inventor. But when a test of her loyalty draws her deep into the fray, she discovers no mission is more treacherous than escaping one's past.
Inspired by stunning true accounts, The Ways We Hide is a gripping story of love and loss, the wars we fight—on the battlefields and within ourselves—and the courage found in unexpected places.
"The Queen's Gambit meets The Alice Network in this epic, action-packed novel of family, loss, and one woman's journey to save all she holds dear?including freedom itself." ?Kristin Harmel, New York Times bestselling author of The Forest of Vanishing Stars
---
Kristina McMorris is a New York Times bestselling author of two novellas and six novels, including the runaway bestseller Sold on a Monday. Initially inspired by her grandparents' WWII courtship letters, her works of fiction have garnered more than twenty national literary awards. Prior to her writing career, she owned a wedding-and-event planning company until she had far surpassed her limit of YMCA and chicken dances. She also worked as a weekly TV-show host for Warner Bros. and an ABC affiliate, beginning at age nine with an Emmy Award-winning program. A graduate of Pepperdine University, she lives near Portland, Oregon, where (ironically) she's entirely deficient of a green thumb and doesn't own a single umbrella.
---
McMorris talks about her new book, and the inspiration for the book in the event.