Clive Cussler's Hellburner is the most recent Oregon Files novel. Mike Maden, author of that book, recently appeared at The Poisoned Pen, and he signed copies of the book. You can order signed copies of Clive Cussler's Hellburner through the Web Store. https://bit.ly/3qjY0p6
Here's the description of Clive Cussler's Hellburner.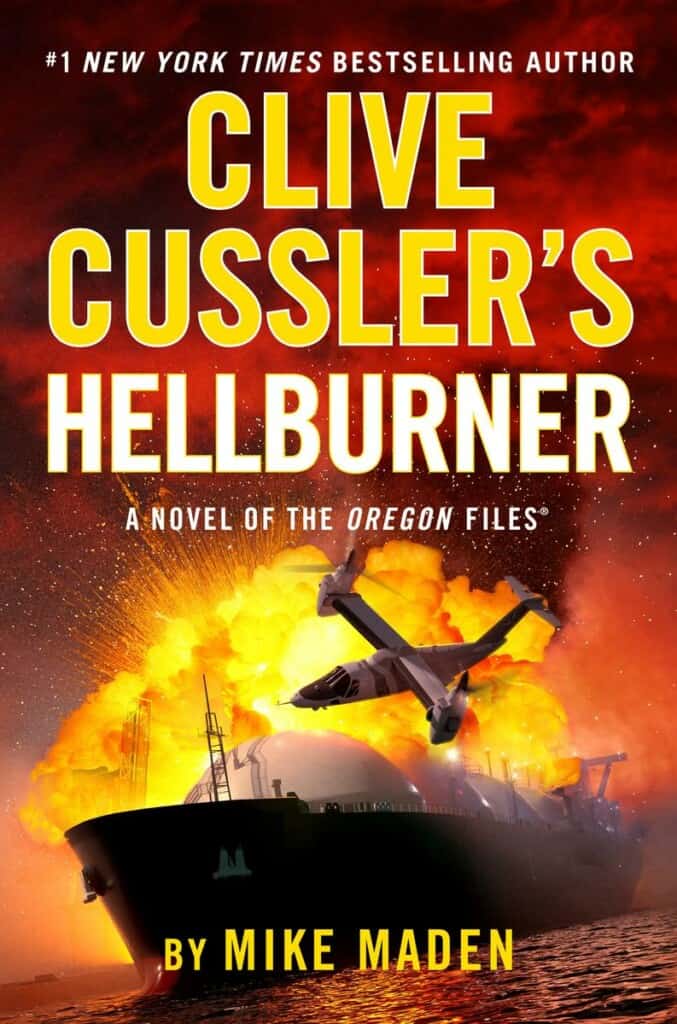 Juan Cabrillo and the crew of the Oregon must track down a nuclear torpedo before it unleashes World War III in this electrifying new installment of the #1 New York Times bestselling series.
    When Juan Cabrillo fails to capture the leader of Mexico's most dangerous drug cartel and loses an Oregon crew member in the process, he's determined to get revenge. Little does he know that the explosion he just narrowly escaped was merely the latest flash of violence from a machine of war that has existed for decades, dating from the bloodiest episode in Armenia's history.

    Cabrillo's Corporation of mercenaries may have finally met its match in The Pipeline—a criminal syndicate passed down from father to son across generations. A group that sits with its finger on the trigger of a torpedo so deadly it could level entire cities. With millions of innocent civilians hanging in the balance, the Oregon's crew must unravel a tangle of drug-smuggling routes and international conspiracies spanning from the Aegean Sea to the Indian Ocean, putting their lives on the line to find the weapon before its countdown hits zero.
---
Clive Cussler was the author of more than eighty books in five bestselling series, including Dirk Pitt®, NUMA Files®, Oregon Files®, Isaac Bell®, and Sam and Remi Fargo®. His life nearly paralleled that of his hero Dirk Pitt. Whether searching for lost aircraft or leading expeditions to find famous shipwrecks, he and his NUMA crew of volunteers discovered and surveyed more than seventy-five lost ships of historic significance, including the long-lost Civil War submarine Hunley, which was raised in 2000 with much publicity. Like Pitt, Cussler collected classic automobiles. His collection featured more than one hundred examples of custom coachwork. Cussler passed away in February 2020.
Mike Maden is the author of the critically acclaimed Drone series and four novels in Tom Clancy's #1 New York Times bestselling Jack Ryan Jr. series. He holds both a master's and Ph.D. in political science from the University of California at Davis, specializing in international relations and comparative politics. He has lectured and consulted on the topics of war and the Middle East, among others. Maden has served as a political consultant and campaign manager in state and national elections, and hosted his own local weekly radio show for a year.
---
Mike Maden talks about Juan Cabrillo, drones, adventure, and future warfare in this latest event.