Barbara Peters, owner of The Poisoned Pen, recently welcomed Taylor Moore, author of Firestorm. Despite his interesting background, he admits that writing is the hardest job he's ever had. You can check out his success by picking up a signed copy through the Web Store. https://bit.ly/3QG7BBO
Here's the summary of Firestorm, a sequel to Down Range.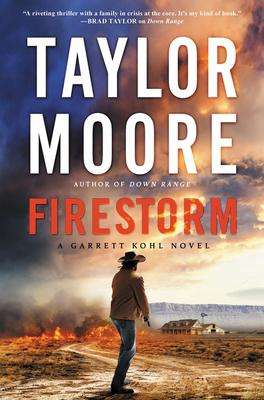 DEA Special Agent Garrett Kohl must rescue a CIA officer when she's kidnapped in Texas by a nefarious band of criminals in this pulse-pounding thriller for fans of C. J. Box.
Special Agent Garrett Kohl has just taken down a dangerous and deadly cartel boss when he finds trouble brewing back on his family's homestead. A powerful energy consortium, Talon Corporation, has started an aggressive mining operation that threatens to destroy Garrett's land, his family's way of life, and everything they hold dear. To achieve its goals, Talon is flouting the law, bribing public officials, and meeting anyone who challenges it with physical violence. When the Kohls themselves are attacked by Talon guards, Garrett goes on the offensive, embarking on an investigation that he hopes will rid the Texas High Plains of the intruders once and for all.
Garrett soon discovers that the company has origins in the dark hinterlands of countries across the globe. Using coercion and assassination levied by men from former Russian special operations forces, Talon is working on a highly secretive scheme to commandeer precious U.S. resources. The tit for tat exchange between Talon and the Kohls erupts into a full-scale war when Russian spy, Alexi Orlov, kidnaps Garrett's friend and ally, CIA operative Kim Manning. While Talon may be accustomed to getting its way in many places around the world, they have yet to encounter this rare breed of warrior down in Texas—a man who will fight to the death to protect those that he loves.  
---
Taylor Moore is the author of Down Range, which was nominated for the Barry Award for Best First Novel, named a Strand Magazine Best Mystery of the year, and selected for the Texas Library Association's Lariat Reading List. He is a sixth-generation Texan who grew up on a farm and ranch northwest of Houston and is a former CIA Intelligence Officer who worked in both analysis and operations and later consulted for the Department of Defense in Theater Security Cooperation, Force Protection, and Counternarcotics. He now lives in the Texas Panhandle with his wife and two children, where he is a full-time author, screenwriter, and speaker. This is Taylor's second novel featuring Garrett Kohl.
---
Moore is a fascinating speaker. Check out the video.