Ramona Emerson is the debut author of Shutter. I know how much Barbara Peters, owner of The Poisoned Pen, likes to introduce debut authors to readers. She welcomed Emerson as well as David Heska Wanbli Weiden who acted as guest host for the virtual event. There are signed copies of Shutter still in stock in the Web Store. https://bit.ly/3BNNWvo
Here's the summary of Shutter, the August First Mystery Book of the Month at the Pen.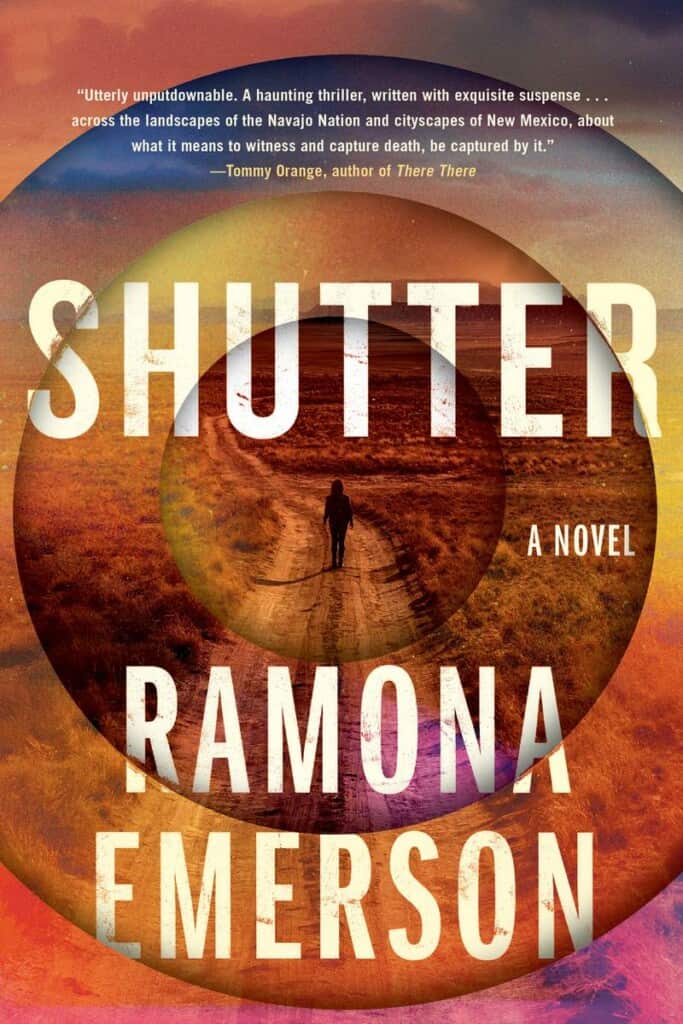 This blood-chilling debut set in New Mexico's Navajo Nation is equal parts gripping crime thriller, supernatural horror, and poignant portrayal of coming of age on the reservation.
Rita Todacheene is a forensic photographer working for the Albuquerque police force. Her excellent photography skills have cracked many cases—she is almost supernaturally good at capturing details. In fact, Rita has been hiding a secret: she sees the ghosts of crime victims who point her toward the clues that other investigators overlook.
As a lone portal back to the living for traumatized spirits, Rita is terrorized by nagging ghosts who won't let her sleep and who sabotage her personal life. Her taboo and psychologically harrowing ability was what drove her away from the Navajo reservation, where she was raised by her grandmother. It has isolated her from friends and gotten her in trouble with the law.

And now it might be what gets her killed.
When Rita is sent to photograph the scene of a supposed suicide on a highway overpass, the furious, discombobulated ghost of the victim—who insists she was murdered—latches onto Rita, forcing her on a quest for revenge against her killers, and Rita finds herself in the crosshairs of one of Albuquerque's most dangerous cartels. Written in sparkling, gruesome prose, Shutter is an explosive debut from one of crime fiction's most powerful new voices. 
---
Ramona Emerson is a Diné writer and filmmaker originally from Tohatchi, New Mexico. She has a bachelor's in Media Arts from the University of New Mexico and an MFA in Creative Writing from the Institute of American Indian Arts. After starting in forensic videography, she embarked upon a career as a photographer, writer, and editor. She is an Emmy nominee, a Sundance Native Lab Fellow, a Time-Warner Storyteller Fellow, a Tribeca All-Access Grantee and a WGBH Producer Fellow. In 2020, Emerson was appointed to the Governor's Council on Film and Media Industries for the State of New Mexico. She currently resides in Albuquerque, New Mexico, where she and her husband, the producer Kelly Byars, run their production company Reel Indian Pictures. Shutter is her first novel.
---
Enjoy this excellent conversation with Ramona Emerson.