Barbara Peters, owner of The Poisoned Pen, recently hosted Robert Pobi for a virtual event. Pobi is the author of the Lucas Page novels, and Do No Harm is the third in the series. There are copies of it available in the Web Store. https://tinyurl.com/2p96v79d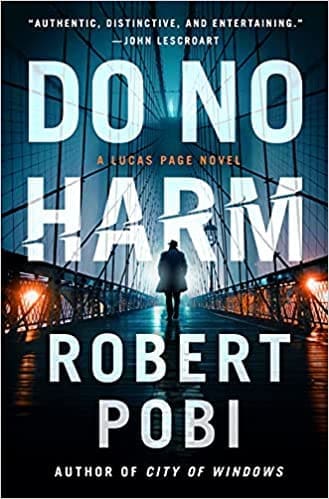 In Robert Pobi's thriller Do No Harm, a series of suicides and accidental deaths in the medical community are actually well-disguised murders and only Lucas Page can see the pattern and discern the truth that no one else believes.

Lucas Page is a polymath, astrophysicist, professor, husband, father of five adopted children, bestselling author, and ex-FBI agent—emphasis on "ex." Severely wounded after being caught in an explosion, Page left the FBI behind and put his focus on the rebuilding the rest of his life. But Page is uniquely gifted in being able to recognize patterns that elude others, a skill that brings the F.B.I. knocking at his door again and again.

Lucas Page's wife Erin loses a friend, a gifted plastic surgeon, to suicide and Lucas begins to realize how many people Erin knew that have died in the past year, in freak accidents and now suicide. Intrigued despite himself, Page begins digging through obituaries and realizes that there's a pattern—a bad one. These deaths don't make sense unless the doctors are being murdered, the target of a particularly clever killer. This time, the FBI wants as little to do with Lucas as he does with them so he's left with only one option—ignore it and go back to his normal life. But then, the pattern reveals that the next victim is likely to be…Erin herself.

---
Robert Pobi is the author of several novels, including the international bestsellers Bloodman and Harvest, as well as the Lucas Page thrillers, which begin with City of Windows. He lives in Canada.
---
Enjoy the conversation with Robert Pobi.