Barbara Peters, owner of The Poisoned Pen, recently welcomed three authors who are published by Crooked Lane Books. Two of the authors, Mindy Carlson and Kate Khavari are debut authors. You can find the books by those authors, and Evie Hawtrey, through the Web Store. https://store.poisonedpen.com/
Here are the descriptions of all three books, beginning with Mindy Carlson's Her Dying Day.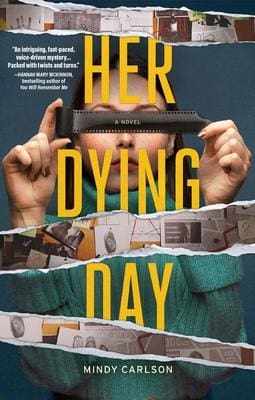 Perfect for fans of Shari Lapena and Hannah Mary McKinnon, a mystery writer's sudden disappearance leads a budding filmmaker down a dark road to treachery, murder, and long-buried sins.
Aspiring filmmaker June Masterson has high hopes for her first documentary, the true story of the disappearance of famed mystery author Greer Larkin. June learned about the vanishing at age fourteen, locked down on her family's isolated commune. Now, the deeper she digs into the project, the darker the story gets.
Everyone has a theory. Greer's mother, Blanche, and her best friend, Rachel, believe that Greer's fiancé, Jonathan, is the culprit. Greer's agent is convinced that Greer committed suicide after a debilitating bout of writer's block. And Jonathan claims it was either Greer's controlling mother or Rachel, whose attachment to Greer went way beyond friendship.
In desperation, Rachel gives June a suitcase full of Greer's most personal writings in hopes of finding proof against Jonathan. Then Rachel turns up dead. As June pores over Greer's writings, she makes a devastating discovery that could finally reveal the truth about the author's fate. But now, June finds herself in the sights of a killer who'll stop at nothing to keep their darkest secret.
---
Mindy Carlson grew up as an animal- and mystery-loving girl in Iowa before heading to California to see what she could make of her life. Now she lives in Maryland and is a successful parenting author, with pieces appearing in The Washington Post, Big Life Journal, and AFineParent.com. Her Dying Day is her debut novel.
---
Here's Evie Hawtrey's And By Fire.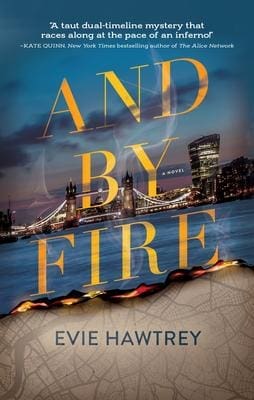 Tempered by fire and separated by centuries, two extraordinary female detectives track a pair of murderous geniuses who will burn the world for their art in this mystery perfect for fans of Sarah Penner and Dan Brown.
Nigella Parker, Detective Inspector with the City Police, has a deeply rooted fear of fire and a talent for solving deadly arson cases. When a charred figure is found curled beside Sir Christopher Wren's Monument to the Great Fire of London, Nigella is dragged into a case pitting her against a murderous artist creating sculptures using burnt flesh.
 
Nigella partners with Colm O'Leary of Scotland Yard to track the arsonist across greater London. The pair are more than colleagues—they were lovers until O'Leary made the mistake of uttering three little words. Their past isn't the only buried history as they race to connect the dots between an antique nail pulled from a dead man's hands and a long-forgotten architect dwarfed by the life's work of Sir Christopher Wren.
 
Wren, one of London's most famous architects, is everywhere the pair turn. Digging into his legacy leads the DCIs into the coldest of cold cases: a search for a bookseller gone missing during the Great Fire of London. More than 350 years earlier, while looking for their friend, a second pair of detectives—a lady-in-waiting to the Queen and a royal fireworks maker—discovered foul play in the supposedly accidental destruction of St. Paul's Cathedral…but did that same devilry lead to murder? And can these centuries-old crimes help catch a modern-day murderer?
 
As Nigella and O'Leary rush to decode clues, past and present, London's killer-artist sets his sights on a member of the investigative team as the subject of his next fiery masterpiece.
---
Evie Hawtrey is a Yank by birth but a sister-in-spirit to her fierce and feminist London detective, DI Nigella Barker. Evie splits her time between Washington DC, where she lives with her husband, and York, UK, where she enjoys living in history, lingering over teas, and knocking around in pubs.
---
Here's Kate Khavari and her debut mystery, A Botanist's Guide to Parties and Poisons.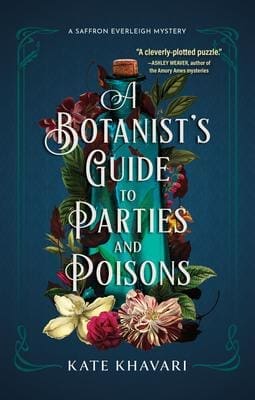 Debut author Kate Khavari deftly entwines a pulse-pounding mystery with the struggles of a woman in a male-dominated field in 1923 London.
Newly minted research assistant Saffron Everleigh is determined to blaze a new trail at the University College London, but with her colleagues' beliefs about women's academic inabilities and not so subtle hints that her deceased father's reputation paved her way into the botany department, she feels stymied at every turn.

When she attends a dinner party for the school, she expects to engage in conversations about the university's large expedition to the Amazon. What she doesn't expect is for Mrs. Henry, one of the professors' wives, to drop to the floor, poisoned by an unknown toxin.
Dr. Maxwell, Saffron's mentor, is the main suspect and evidence quickly mounts. Joined by fellow researcher–and potential romantic interest–Alexander Ashton, Saffron uses her knowledge of botany as she explores steamy greenhouses, dark gardens, and deadly poisons to clear Maxwell's name.

Will she be able to uncover the truth or will her investigation land her on the murderer's list, in this entertaining examination of society's expectations.
---
Kate Khavari is the author of fiction ranging from historical mysteries to high fantasy epics. She has her parents to thank for her fascination for historical mysteries, as she spent the majority of her childhood memorizing Sherlock Holmes's and Poirot's greatest quips. A former teacher, Kate has a deep appreciation for research and creativity, not to mention the multitasking ability she now relies on as an author and stay at home mother to her toddler son. She lives in the Dallas-Fort Worth area of Texas with her husband, son, and a lovely garden that contains absolutely no poisonous plants.
---
Enjoy Barbara Peters' conversation with the three authors.