Barbara Peters, owner of The Poisoned Pen, recently welcomed Graham Brown and Matthew Quirk to the bookstore for an in-person and virtual event. Brown is the author of Clive Cussler's Dark Vector. Quirk's new book is Red Warning. There are signed copies of both books available in the Web Store. https://store.poisonedpen.com/
Here's the description of Clive Cussler's Dark Vector.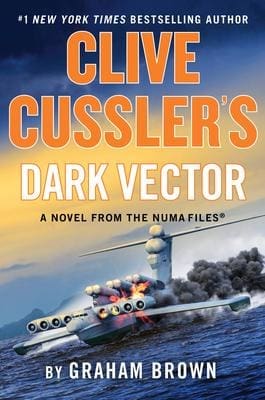 Kurt Austin must find a vanished ship and stave off a global catastrophe in the latest novel in the #1 New York Times-bestselling series created by the "grand master of adventure" Clive Cussler.
A freighter carrying top-secret computers of unparalleled capability disappears in the Western Pacific. While searching for a lost treasure that once belonged to the famous Chinese pirate queen, Ching Shih, Kurt Austin and Joe Zavala are redirected to look for the missing vessel.
    Discovering that the sinking of the ship is just part of an intricate web of deception, they find themselves in the middle of a cyber-war between rival groups of hackers, both of whom want to control the flow of data around the world.

    With no allies except a group of pirates who operate under their own crude laws, Kurt and Joe must rescue a colleague held hostage—while keeping the computers out of Russian or Chinese hands and the world's digital information safe from the hackers.
---
Clive Cussler was the author of more than eighty books in five bestselling series, including Dirk Pitt®, NUMA Files®, Oregon Files®, Isaac Bell®, and Sam and Remi Fargo®. His life nearly paralleled that of his hero Dirk Pitt. Whether searching for lost aircraft or leading expeditions to find famous shipwrecks, he and his NUMA crew of volunteers discovered and surveyed more than seventy-five lost ships of historic significance, including the long-lost Civil War submarine Hunley, which was raised in 2000 with much publicity. Like Pitt, Cussler collected classic automobiles. His collection featured more than one hundred examples of custom coachwork. Cussler passed away in February 2020.
Graham Brown is the author of Black Rain and Black Sun, and the coauthor with Cussler of Devil's Gate, The Storm, Zero Hour, Ghost Ship, The Pharaoh's Secret, Nighthawk, The Rising Sea, Sea of Greed, Journey of the Pharoes, and Fast Ice. He is a pilot and an attorney.
---
Check out Matthew Quirk's Red Warning.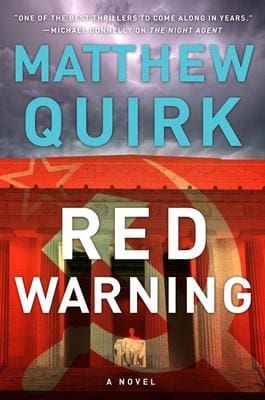 "Intricately plotted with extraordinary characters and riveting action." ""Jack Carr, #1 New York Times bestselling author of In the Blood
CIA officer Sam Hudson races to find a deep cover operative loose in the U.S. and a mole in the Agency before they can launch a devastating attack on Washington, D.C., in this adrenaline-fueled thriller from the author of The Night Agent and Hour of the Assassin.
For years CIA officer Sam Hudson has been hunting Konstantin, a Russian deep cover operative responsible for a string of assassinations in the West—and he believes a well-placed source in Geneva can finally get him close to the killer. But when their meeting is ambushed, Sam's partner is murdered and he barely makes it out alive himself.
Back in the States, the bosses put him on leave and want him to drop his obsession with Konstantin, but Sam can't let a man who's taken so many lives slip away again. When he gets a mysterious call at the Lincoln Memorial just before a bomb goes off, he realizes Konstantin has followed him to the U.S.—and is targeting him and everyone close to him. Teaming up with fellow CIA officer Emily Pierce, he sets out to redeem himself and uncover a plot that has been lying in wait since the end of the Cold War, its elements hidden among the most iconic buildings in the capital.
With enemies lurking both inside and outside the Agency and the Russian threat looming ever larger, Sam must use all his training and nerve to stop Konstantin before he can trigger the plot to devastate Washington and bring the US to its knees.
---
Matthew Quirk is the New York Times bestselling author of Hour of the Assassin, The Night Agent, The 500, The Directive, Cold Barrel Zero, and Dead Man Switch. He spent five years at The Atlantic reporting on crime, private military contractors, terrorism prosecutions, and international gangs. He lives in San Diego, California.
---
Enjoy the conversation with Graham Brown and Matthew Quirk.