Barbara Peters and Patrick Millikin from The Poisoned Pen tag teamed to talk with Peter Spiegelman about his background and his new book, A Secret About a Secret. There are signed copies of the book through the Web Store. https://tinyurl.com/6px6dvjz
Here's the description of A Secret About a Secret.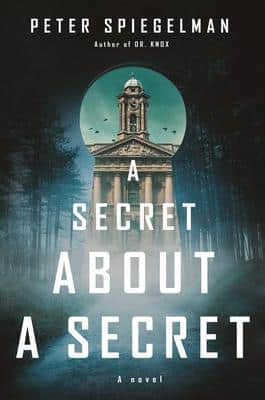 A hypnotic literary mystery thriller about a murder at a secluded research facility and the secrets that it exposes. "¢ "Cyber thievery, lust, corporate espionage, and a host of deleterious secrets comprise the chords of this sweeping, riveting symphony. A bold and original thriller by a masterful storyteller." —Elizabeth Brundage, author of The Vanishing Point
Looming high above the cliffside along a remote coastline, Ondstrand House is the headquarters of the shadowy biotech firm Ondstrand Biologic. When the body of the organization's most gifted young scientist, Allegra Stans, is discovered in a walk-in refrigerator—her neck has been broken—Agent Myles is called in to investigate. Myles works for Standard Division, the most feared element of a vast state security apparatus, and he's been dispatched to the brooding manor, a massive stone campus that once housed a notorious boarding school, to do what Standard Division agents do best—complete the task at hand.
As his investigation proceeds, Myles discovers that "gifted scientist" is only one thread in the complicated fabric of Allegra's life. There are darker strands as well—of ambition, manipulation, and bitter grievance—all woven into a pattern of secrets, each presenting a reasonable motive for murder. It appears everyone has something to hide, including Allegra's colleagues, lovers, and former lovers—even the very halls of Ondstrand House itself.
Questions continue to pile up: What interest does Standard Division, an organization best known for intelligence gathering and clandestine international operations, have in this seemingly straightforward case? Could the killing have anything to do with the sprawling estate's sordid past? And what, exactly, is this research facility researching? Before long, another murder is discovered, and Myles finds himself an increasingly unwelcome presence in an ever more hostile landscape with few allies and fewer answers.
---
PETER SPIEGELMAN is the author of Black Maps, Death's Little Helpers, Red Cat, Thick as Thieves, and Dr. Knox. Prior to his career as a writer, Spiegelman spent nearly twenty years in the financial services and software industries. He lives in New York City.
---
Enjoy the conversation.