John Charles from The Poisoned Pen recently hosted cozy mystery authors Jenn McKinlay and Emmeline Duncan. McKinlay's fourteenth Cupcake Bakery mystery is Strawberried Alive. Double Shot Death is Duncan's second Ground Rules mystery. You can order copies of both books through the Web Store, including signed copies of Strawberried Alive. https://store.poisonedpen.com/
Here's the description of Strawberried Alive.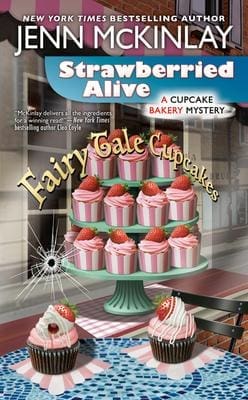 The crew from the Fairy Tale Cupcakes shop risks getting burned when they set out to find a murderer who is terrorizing their town
 
Life is smooth as buttercream at the Fairy Tale Cupcakes bakery, and newlyweds Mel and Joe are stopping to smell the flours. But things start to crumble one night when an unknown gunman takes a shot at Mel. Though the bullets miss their mark, the cupcake crew goes on high alert to figure out who would want to kill a small-town baker, and why.
 
When more business owners are attacked, things turn fatal, and locals begin to wonder if the killer could be one of their own. Every shop owner in town starts to fear it's only a matter of time before they too become victims of the mystery murderer. Despite the cupcake crew's superb baking skills, it will be anything but a piece of cake to catch the killer, as they try to prevent anyone else from being berried.
---
Jenn McKinlay is the award-winning New York Times, USA Today, and Publishers Weekly bestselling author of several mystery and romance series. Her work has been translated into multiple languages in countries all over the world. She lives in sunny Arizona in a house that is overrun with kids, pets, and her husband's guitars.
---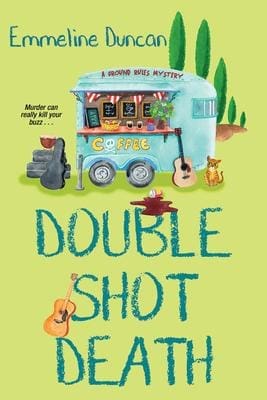 Here's the summary of Emmeline Duncan's Double Shot Death.
With its entrepreneurial, 20-something protagonist, focus on a hipster-run food truck pod in Portland, Oregon, and real-world issues involving homelessness and gentrification, this second Ground Rules Mystery is a modern, fresh-voiced, and witty cozy featuring a sleuth who can make a perfect cup of coffee!

Fresh Brewed Murder is a fresh, updated cozy mystery that offers strong appeal to Millennial and Gen Z readers.
Sage Caplin is taking her Portland coffee cart on the road to a sustainable music festival, but murder is an unwanted special guest…

At Campathon, an annual eco-friendly festival held on a farm outside of Portland, fans celebrate the Pacific Northwest's music scene in quintessential PDX style—with gourmet food carts, reusable utensils…and lots of coffee. How else to get through three days of nonstop entertainment? Sage has scored a coveted place for her Ground Rules coffee cart thanks to her new-ish boyfriend, Bax, who's friendly with Maya, one of the musicians performing.

The festivities begin with a stream of customers, friends, and acquaintances stopping by for Ground Rules' world-class blends, expertly brewed by Sage and her newest barista. But there are tensions between Maya and her former bandmates, who are on the cusp of making it big, and with Ian, the band's manager. When Sage stumbles upon Ian's dead body in the nearby woods—his hand still clutching one of her coffee mugs—it's clear that someone's grudge boiled over into murder. Can Sage work out who's responsible before another innocent life fades out, and the curtain falls on Campathon, and maybe her own future, for good?
---
Emmeline Duncan is the Portland, Oregon-based author of the Ground Rules Mystery Series, as well as YA novels written under the name Kelly Garrett. She is a 2020 Oregon Literary Fellow, a board member of the Northwest Chapter of the Mystery Writers of America, and co-organizer of the Friends of Mystery's Bloody Thursday lecture series. She's also a member of Sisters-In-Crime, Willamette Writers, and SCBWI. Visit her online at EmmelineDuncan.com, on Instagram and Facebook as @writeremmelineduncan, and on twitter as @duncanemmeline.
---
Enjoy the conversation.