Barbara Peters, owner of The Poisoned Pen, recently hosted Linwood Barclay for his U.S. national book launch for Take Your Breath Away. You can order copies through the Web Store. https://bit.ly/3wySEZF
Here's the description of Take Your Breath Away.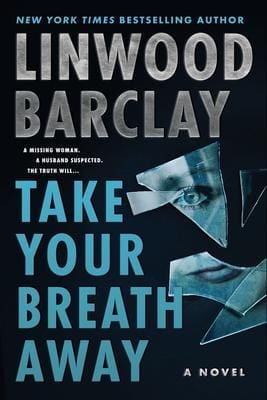 A missing woman. A husband suspected. The truth will . . .
TAKE YOUR BREATH AWAY
From the New York Times bestselling author of Find You First and Elevator Pitch comes a gripping psychological thriller about a formerly missing woman who has suddenly returned under mysterious circumstances.
One weekend, while Andrew Mason was on a fishing trip, his wife, Brie, vanished without a trace. Most everyone assumed Andy had got away with murder—it's always the husband, isn't it?—but the police could never build a strong case against him. For a while, Andy hit rock bottom—he drank too much to numb the pain, was abandoned by all his friends save one, nearly lost his business, and became a pariah in the place he once called home.
Now, six years later, Andy has finally put his life back together. He sold the house he once shared with Brie and moved away. To tell the truth, he wasn't sad to hear that the old place was razed and a new house built on the site. He's settled down with a new partner, Jayne, and life is good.
But Andy's peaceful world is about to shatter. One day, a woman shows up at his old address, screaming, "Where's my house? What's happened to my house?" And then, just as suddenly as she appeared, the woman—who bears a striking resemblance to Brie—is gone. The police are notified and old questions—and dark suspicions—resurface.
Could Brie really be alive after all these years? If so, where has she been? It soon becomes clear that Andy's future and the lives of those closest to him depend on discovering what the hell is going on. The trick will be whether he can stay alive long enough to unearth the answers.
---
Linwood Barclay is the New York Times bestselling author of twenty previous novels, and two thrillers for children. His books have been translated into more than two dozen languages. He wrote the screenplay adaptation for his novel Never Saw it Coming and his book The Accident has been made into a TV series in France. His novel No Time for Goodbye was a global bestseller. A native of Connecticut, he now lives in Toronto with his wife, Neetha.
---
Enjoy this conversation between two friends, Linwood Barclay and Barbara Peters.