Mike Lupica recently appeared at The Poisoned Pen, hosted by Barbara Peters, owner of the bookstore. Lupica reveals that Robert B. Parker's Revenge Tour is his last Sunny Randall novel. Alison Gaylin is picking up the Sunny Randall series. But, Spenser and Hawk appear in Revenge Tour, and Lupica will be writing the Spenser series. Peters says Hawk sounds so much like Hawk in Parker's books. No promises that you can still get a signed copy of Revenge Tour through the Web Store. https://bit.ly/3McUGFB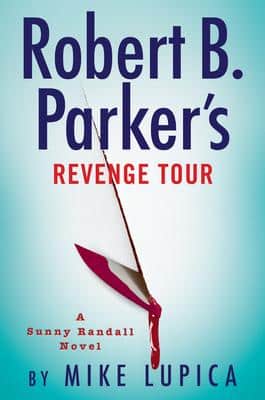 Robert B. Parker's PI Sunny Randall's newest case hits close to home in ways she never expected in her latest thrilling investigation.
PI Sunny Randall owes a favor. Her landlord and former client, famous novelist Melanie Joan Hall, is being threatened and blackmailed, and it is up to Sunny and her best friend Spike to ensure her protection. But as Sunny looks into the identity of Melanie Joan's stalker, she learns that much of the author's past is a product of her amazing imagination, and her loyalty to her old friend is challenged as she searches for the truth.

At the same time, Sunny springs into action when her aging ex-cop father, Phil, is threatened by a shady lawyer with a desire to settle an old score. Fighting crimes on two fronts, Sunny must use all of her savvy, and the help of her friends, in order to protect those she loves. And one thing is for sure with both of these cases: this time, it's personal.  
---
Robert B. Parker was the author of seventy books, including the legendary Spenser detective series, the novels featuring police chief Jesse Stone, and the acclaimed Virgil Cole/Everett Hitch Westerns, as well as the Sunny Randall novels. Winner of the Mystery Writers of America Grand Master Award and long considered the undisputed dean of American crime fiction, he died in January 2010. Mike Lupica is a prominent sports journalist and the New York Times-bestselling author of more than forty works of fiction and nonfiction. A longtime friend to Robert B. Parker, he was selected by the Parker estate to continue the Sunny Randall series.
---
Enjoy the conversation between Mike Lupica and Barbara Peters.