Anne Hillerman's The Sacred Bridge is the current Hot Book of the Week at The Poisoned Pen. Hillerman appeared at the bookstore for the release of her seventh Leaphorn, Chee & Manuelito novel. There are signed copies of The Sacred Bridge available in the Web Store. https://tinyurl.com/5n82w8np
Here's the summary of The Sacred Bridge.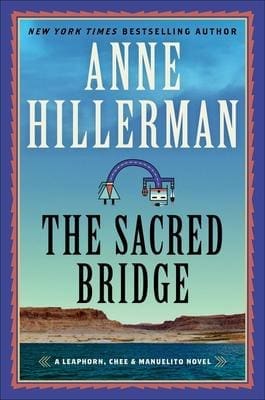 "A fine legacy series . . . in the spirit of her late father, Tony."—Booklist
An ancient mystery resurfaces with ramifications for the present day in this gripping chapter in the Leaphorn, Chee & Manuelito series from New York Times bestselling author Anne Hillerman.
Sergeant Jim Chee's vacation to beautiful Antelope Canyon and Lake Powell has a deeper purpose. He's on a quest to unravel a sacred mystery his mentor, the Legendary Lieutenant Joe Leaphorn, stumbled across decades earlier.
Chee's journey takes a deadly turn when, after a prayerful visit to the sacred Rainbow Bridge, he spots a body floating in the lake. The dead man, a Navajo with a passion for the canyon's ancient rock art, lived a life filled with many secrets. Discovering why he died and who was responsible involves Chee in an investigation that puts his own life at risk.
Back in Shiprock, Officer Bernadette Manuelito is driving home when she witnesses an expensive sedan purposely kill a hitchhiker. The search to find the killer leads her to uncover a dangerous chain of interconnected revelations involving a Navajo Nation cannabis enterprise.
But the evil that is unleashed jeopardizes her mother and sister Darleen, and puts Bernie in the deadliest situation of her law enforcement career. 
---
ANNE HILLERMAN is the bestselling author of the Leaphorn, Chee & Manuelito series. The Sacred Bridge is her seventh novel in the series, which was created by her father, Tony Hillerman. She lives in Santa Fe, New Mexico, where she is at work on her next novel.
---
Enjoy Anne HIllerman's conversation with Barbara Peters, owner of The Poisoned Pen.