Grace Li appeared at The Poisoned Pen prior to the actual release of her debut novel, Portrait of a Thief. It's the bookstore's First Mystery Book of the Month for March. You can order signed copies of the debut through the Web Store. https://bit.ly/3NBN1l0
Here's the summary of Portrait of a Thief.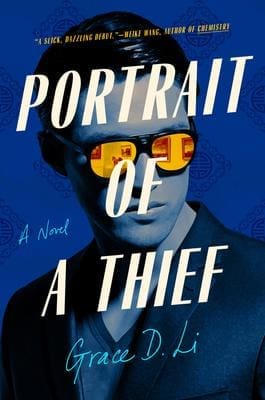 Named A Most Anticipated Book of 2022 by *Marie Claire* *Washington Post* *Vulture* *NBC News* *Buzzfeed* *Veranda* *PopSugar* *Paste* *The Millions* *Medium* *Crimereads* Goodreads* *Bookbub* *Boston.com* and more!

Ocean's Eleven meets The Farewell in Portrait of a Thief, a lush, lyrical heist novel inspired by the true story of Chinese art vanishing from Western museums; about diaspora, the colonization of art, and the complexity of the Chinese American identity.
History is told by the conquerors. Across the Western world, museums display the spoils of war, of conquest, of colonialism: priceless pieces of art looted from other countries, kept even now.
Will Chen plans to steal them back.
A senior at Harvard, Will fits comfortably in his carefully curated roles: a perfect student, an art history major and sometimes artist, the eldest son who has always been his parents' American Dream. But when a mysterious Chinese benefactor reaches out with an impossible—and illegal—job offer, Will finds himself something else as well: the leader of a heist to steal back five priceless Chinese sculptures, looted from Beijing centuries ago.
His crew is every heist archetype one can imag­ine—or at least, the closest he can get. A con artist: Irene Chen, a public policy major at Duke who can talk her way out of anything. A thief: Daniel Liang, a premed student with steady hands just as capable of lockpicking as suturing. A getaway driver: Lily Wu, an engineering major who races cars in her free time. A hacker: Alex Huang, an MIT dropout turned Silicon Valley software engineer. Each member of his crew has their own complicated relationship with China and the identity they've cultivated as Chinese Americans, but when Will asks, none of them can turn him down.
Because if they succeed? They earn fifty million dollars—and a chance to make history. But if they fail, it will mean not just the loss of everything they've dreamed for themselves but yet another thwarted at­tempt to take back what colonialism has stolen.
Equal parts beautiful, thoughtful, and thrilling, Portrait of a Thief is a cultural heist and an examination of Chinese American identity, as well as a necessary cri­tique of the lingering effects of colonialism.
---
Grace D. Li grew up in Pearland, Texas and is a graduate of Duke University, where she studied biology and creative writing. She lives in Northern California and attends medical school at Stanford University. Portrait of a Thief is her debut novel and is currently in development at Netflix, with Grace serving as an executive producer for the series.
---
Here's Grace Li's conversation with Barbara Peters, owner of The Poisoned Pen.