Ellen Crosby recently joined Barbara Peters, owner of The Poisoned Pen, to discuss the twelfth book in her Wine Country series. Crosby said she's been with the bookstore for all of her books, including this latest one, Bitter Roots. There are signed copies of Bitter Roots available through the Web Store. https://bit.ly/3iU1XwE
Here's the description of Bitter Roots.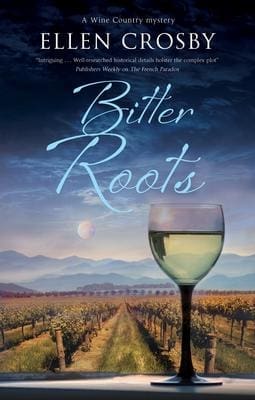 The brutal murder of a beautiful vineyard expert and a devastating storm force Virginia winemaker Lucie Montgomery to confront painful changes on the eve of her wedding.
In just over a week vineyard owner Lucie Montgomery and winemaker Quinn Santori will be married in a ceremony overlooking what should be acres of lush flowering grapevines. Instead they are confronted by an ugly swathe of slowly dying vines and a nursery owner who denies responsibility for selling the diseased plants. With neighboring vineyards facing the same problem, accusations fly and the ugly stand-off between supplier and growers looks set to escalate into open warfare.
When Eve Kerr, a stunning blonde who works at the nursery, is found dead a few days later, everyone wonders if someone in the winemaking community went too far. What especially troubles Lucie is why Eve secretly arranged to meet Quinn on the day she was murdered – and whether Lucie's soon-to-be husband knows something he's not telling her.
Then a catastrophic storm blows through, destroying everything in its path. With no power, no phones, and no wedding venue, Lucie needs to find out who killed Eve and what her death had to do with Quinn.
---
Ellen Crosby is a former reporter for the Washington Post, foreign correspondent for ABC News Radio and economist at the U.S. Senate. She has spent many years overseas in Europe, but now lives in Virginia with her husband. She is the author of the Wine Country mysteries and the Sophie Medina mysteries.
---
Remember, when you watch a Poisoned Pen event, you get so much more than a discussion of the book. Enjoy!