Michael Koryta recently served as guest host, welcoming Stewart O'Nan for a virtual event for The Poisoned Pen. O'Nan's latest book is Ocean State. You can order a copy through the Web Store. https://bit.ly/3NykjBR
Here's the description of Ocean State.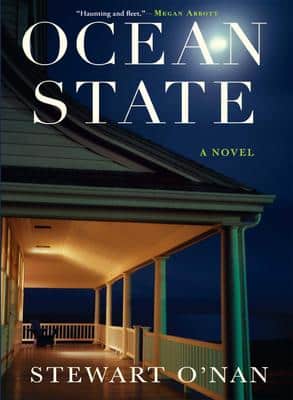 Set in a working-class town on the Rhode Island coast, O'Nan's latest is a crushing, beautifully written, and profoundly compelling novel about sisters, mothers, and daughters, and the terrible things love makes us do. In the first line of Ocean State, we learn that a high school student was murdered, and we find out who did it. The story that unfolds from there with incredible momentum is thus one of the build-up to and fall-out from the murder, told through the alternating perspectives of the four women at its heart. Angel, the murderer, Carol, her mother, and Birdy, the victim, all come alive on the page as they converge in a climax both tragic and inevitable. Watching over it all is the retrospective testimony of Angel's younger sister Marie, who reflects on that doomed autumn of 2009 with all the wisdom of hindsight.
Angel and Birdy love the same teenage boy, frantically and single mindedly, and are compelled by the intensity of their feelings to extremes neither could have anticipated. O'Nan's expert hand paints a fully realized portrait of these women, but also weaves a compelling and heartbreaking story of working-class life in Ashaway, Rhode Island. Propulsive, moving, and deeply rendered, Ocean State is a masterful novel by one of our greatest storytellers.
---
Stewart O'Nan is the author of numerous books, including Wish You Were Here, Everyday People, In the Walled City, The Speed Queen, and Emily, Alone. His 2007 novel, Last Night at the Lobster, was a national bestseller and a finalist for the Los Angeles Times Book Prize. He was born and raised in Pittsburgh, where he lives with his family.
---
Enjoy the event, and the discovery of the influences on Stewart O'Nan's new book.