Barbara Peters, owner of The Poisoned Pen, hosted Jacqueline Winspear for the virtual launch of her seventeenth Maisie Dobbs mystery, A Sunlit Weaspon. Winspear has appeared for the bookstore for every book, even when she had to appear virtually. You can order a signed copy of A Sunlit Weapon through the Web Store. https://bit.ly/3IyAISK
Here's the description of A Sunlit Weapon.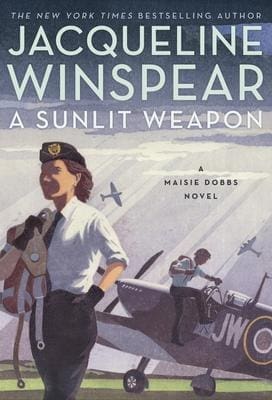 In the latest installment of the New York Times bestselling series, a series of possible attacks on British pilots leads Jacqueline Winspear's beloved heroine Maisie Dobbs into a mystery involving First Lady Eleanor Roosevelt.
October 1942. Jo Hardy, a 22-year-old ferry pilot, is delivering a Supermarine Spitfire—the fastest fighter aircraft in the world—to Biggin Hill Aerodrome, when she realizes someone is shooting at her aircraft from the ground. Returning to the location on foot, she finds an American serviceman in a barn, bound and gagged. She rescues the man, who is handed over to the American military police; it quickly emerges that he is considered a suspect in the disappearance of a fellow soldier who is missing.
Tragedy strikes two days later, when another ferry pilot crashes in the same area where Jo's plane was attacked. At the suggestion of one of her colleagues, Jo seeks the help of psychologist and investigator Maisie Dobbs. Meanwhile, Maisie's husband, a high-ranking political attaché based at the American embassy, is in the thick of ensuring security is tight for the first lady of the United States, Eleanor Roosevelt, during her visit to the Britain. There's already evidence that German agents have been circling: the wife of a president represents a high value target. Mrs. Roosevelt is clearly in danger, and there may well be a direct connection to the death of the woman ferry pilot and the recent activities of two American servicemen.
 To guarantee the safety of the First Lady—and of the soldier being held in police custody—Maisie must uncover that connection. At the same time, she faces difficulties of an entirely different nature with her young daughter, Anna, who is experiencing wartime struggles of her own.
---
Jacqueline Winspear is the author of the New York Times bestsellers The Consequences of Fear, The American Agent, and To Die but Once, as well as thirteen other bestselling Maisie Dobbs novels and The Care and Management of Lies, a Dayton Literary Peace Prize finalist. Jacqueline has also published two nonfiction books, What Would Maisie Do? and a memoir, This Time Next Year We'll Be Laughing. Originally from the United Kingdom, she divides her time between California and the Pacific Northwest.
---
Winspear provides a fascinating background as she talks about women pilots. Enjoy the program!