Sarah Weinman recently returned virtually to The Poisoned Pen to discuss her latest true crime book, Scoundrel. Like Weinman, who is the crime columnist for The New York Times Book Review, Patrick Millikin from the Pen is a book reviewer, so they had the chance to talk about book reviewing as well as Weinman's new book. You can order a copy of Scoundrel through the Web Store. https://bit.ly/3pTOBVp
Here's the summary of Scoundrel.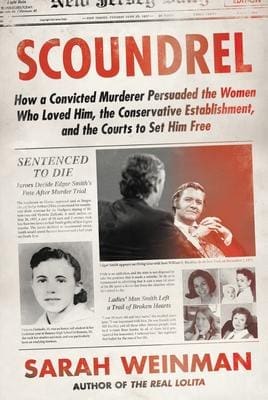 A Recommended Read from: The Los Angeles Times * Town and Country * The Seattle Times * Publishers Weekly * Lit Hub * Crime Reads * Alma
From the author of The Real Lolita and editor of Unspeakable Acts, the astonishing story of a murderer who conned the people around him—including conservative thinker William F. Buckley—into helping set him free
In the 1960s, Edgar Smith, in prison and sentenced to death for the murder of teenager Victoria Zielinski, struck up a correspondence with William F. Buckley, the founder of National Review. Buckley, who refused to believe that a man who supported the neoconservative movement could have committed such a heinous crime, began to advocate not only for Smith's life to be spared but also for his sentence to be overturned.
So begins a bizarre and tragic tale of mid-century America. Sarah Weinman's Scoundrel leads us through the twists of fate and fortune that brought Smith to freedom, book deals, fame, and eventually to attempting murder again. In Smith, Weinman has uncovered a psychopath who slipped his way into public acclaim and acceptance before crashing down to earth once again.
From the people Smith deceived—Buckley, the book editor who published his work, friends from back home, and the women who loved him—to Americans who were willing to buy into his lies, Weinman explores who in our world is accorded innocence, and how the public becomes complicit in the stories we tell one another.
Scoundrel shows, with clear eyes and sympathy for all those who entered Smith's orbit, how and why he was able to manipulate, obfuscate, and make a mockery of both well-meaning people and the American criminal justice system. It tells a forgotten part of American history at the nexus of justice, prison reform, and civil rights, and exposes how one man's ill-conceived plan to set another man free came at the great expense of Edgar Smith's victims.
---
Sarah Weinman is the author of The Real Lolita: A Lost Girl, an Unthinkable Crime, and a Scandalous Masterpiece, and the editor, most recently, of Unspeakable Acts: True Tales of Crime, Murder, Deceit & Obsession. She is a 2020 National Magazine Award finalist for reporting and a Calderwood Journalism Fellow at MacDowell, and her work has appeared most recently in New York magazine, the Wall Street Journal, Vanity Fair, and the Washington Post. Weinman writes the crime column for the New York Times Book Review and lives in New York City.
---
If you're a true crime fan, you'll want to watch this virtual event.