I'm always so excited when the authors appear in person for The Poisoned Pen lately. C.J. Box just appeared to talk about his new book, Shadows Reel. He chatted with the audience and Barbara Peters, owner of The Poisoned Pen. You'll want to hear the real story behind Shadows Reel, the story of a librarian and a donation. Then, you might want to order a signed copy of the book through the Web Store. https://bit.ly/3KtsyN6
Here's the description of Shadows Reel.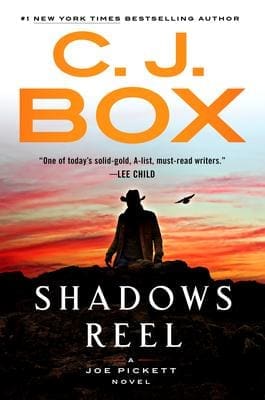 Wyoming Game Warden Joe Pickett and his wife Marybeth make separate discoveries that put the Pickett family in a pair of killers' crosshairs in this thrilling new novel in the bestselling series.
A day before the three Pickett girls come home for Thanksgiving, Joe is called out for a moose poaching incident that turns out to be something much more sinister: a local fishing guide has been brutally tortured and murdered.  At the same time, Marybeth opens an unmarked package at the library where she works and finds a photo album that belonged to an infamous Nazi official. Who left it there? And why?

She learns that during World War II, several Wyoming soldiers were in the group that fought to Hitler's Eagles Nest retreat in the Alps—and one of them took the Fuhrer's personal photo album. Did another take this one and keep it all these years?  When a close neighbor is murdered, Joe and Marybeth face new questions: Who is after the book? And how will they solve its mystery before someone hurts them…or their girls? 

Meanwhile, Nate Romanowski is on the hunt for the man who stole his falcons and attacked his wife. Using a network of fellow falconers, Nate tracks the man from one city to another. Even as he grasps the true threat his quarry presents, Nate swoops in for the kill—and a stunning final showdown.
---
C. J. Box is the author of twenty-two Joe Pickett novels, six stand-alone novels, and a story collection. He has won the Edgar, Anthony, Macavity, Gumshoe, and Barry Awards, as well as the French Prix Calibre .38, and has been a Los Angeles Times Book Prize finalist. A Wyoming native, Box has also worked on a ranch and as a small-town newspaper reporter and editor. He lives outside Cheyenne with his family. His books have been translated into twenty-seven languages. He's an executive producer of ABC TV's Big Sky, which is based on his Cody Hoyt/Cassie Dewell novels, as well as executive producer of the Joe Pickett television series for Paramount Studios/Spectrum Originals.
---
Enjoy this terrific event. It was live, but it was filmed for all of us who couldn't be there.