When Michael Barson asked if I wanted to share his recent interview with author Patrick Strickland, he said The Marauders is set in the border towns of Arizona. Of course, I jumped at the opportunity. You can order a copy of The Marauders: Standing Up to Vigilantes in the American Borderlands through the Web Store. https://tinyurl.com/dftu5ebe
Thank you, Michael.
In this interview conducted by Michael Barson, Senior Publicity Executive at Melville House, author, journalist and editor Patrick Strickland explains why he decided to write THE MARAUDERS, which tells the story of how citizens in a small Arizona border town stood up to anti-immigrant militias and vigilantes. He talks about the major obstacles he had to face during his time in and around Arivaca, Arizona while researching the book and how he tried to overcome them, the benefits and drawbacks of taking on this project as a freelance journalist, and his thoughts on the possibility of peace prevailing in the American borderlands.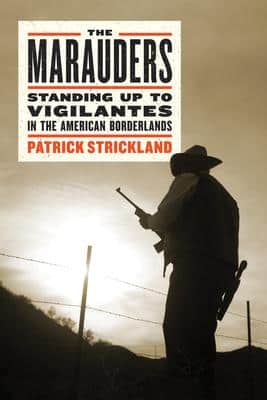 Question: How did the story of Arivaca, Arizona, and its bold campaign against anti-immigrant militias first reach your attention? And what made you decide you needed to report on it?
Patrick Strickland: I was in the United States during the lead-up to the 2018 midterm elections, working at Al Jazeera's bureau in Washington, D.C., and the border was dominating the news. At the time, then-President Donald Trump was busy claiming that a migrant caravan headed toward the southern border constituted an "invasion" of the country.
As a reporter, I had already spent years covering the far right in the U.S. and around Europe, and I knew that kind of rhetoric would have consequences. I was reading local news outlets in Arizona, Texas and elsewhere, trying to get a grip on whether militias were mobilizing. That's when I stumbled across a Tucson-based television station's brief video on Arivaca and the sudden influx of militias. The woman interviewed in that video, Clara Godfrey, had a "No Militia" sign in her yard, and I decided to reach out to her.
When we finally connected, she explained the situation to me. It was harrowing. It wasn't the first time militias had set up shop in their community. In 2009, a militia group had shot and killed a local man and his nine-year-old daughter. Clara told me townspeople were holding meetings and planning how to handle the return of militias to Arivaca. Not long after, I booked a flight to Arizona. I didn't know it would be a book. At first, I thought I might write a long magazine story about it. But the more I learned and the more people I spoke with, the more I thought that a magazine story couldn't do it justice. After that, I kept visiting for more than two years, doing interviews and keeping in touch with people there in southern Arizona — not just Arivaca — about militia activity in their communities when I wasn't there in person.
Q: Having been based overseas for several years as a journalist, what sort of adjustments did you have to make as a reporter to undertake this boots-on-the-ground investigation along Arizona's border territory?
PS: I had reported all over the Middle East — Israel/Palestine, Lebanon, Iraq, Tunisia — and across Europe and the Balkans: Germany, Slovakia, Italy, Croatia, Hungary, Serbia, North Macedonia and Greece, where I was living at the time. For the last couple of years leading up to going to Arizona, my focus had been migration, borders and the far right. The refugee crisis in Europe, which really exploded in numbers in 2015, had informed a lot of my reportage. Far-right groups from Greece to Germany were trying to spin it as an invasion, rhetoric that later felt familiar when I started visiting Arizona.
That said, my reporting methods were largely the same. I went to the place, I spoke with the people who wanted to speak, I did my research, and I sought to put it in a story format that prioritized the voices of the people who were trying to push back against the anti-immigrant rhetoric and the pervasive conspiracy theories taking root.
Q: In the course of THE MARAUDERS, you share dozens of conversations you had with both residents of Arivaca and some of the militia leaders and their followers. Wasn't there a certain amount of danger in the equation when you were meeting with the likes of Timothy Foley, founder of the Arizona Border Recon (AZBR), to name one example? These were armed true believers, some of whom possessed criminal records, correct?
PS: Tim Foley and I only spoke by phone. When I tried to follow up and meet him in person, he never returned my calls. But he was polite enough and answered my questions when we did speak. Other militia members I spoke to had already left the movement. They no longer believed it was a force for good, and they spoke openly about their change of heart.
The formula is always the same, though. You speak to people and represent them fairly. When you do that, you often find that they are willing to share their stories. That's not always the case, but it's often how it pans out. That doesn't mean that I took anyone lightly. I'd reported on the radical right for long enough to know not to do that, and I'd been included on a hit list circulated by neo-Nazis at one point. That was unrelated to this book, and how serious that threat was is debatable, but that kind of thing makes you aware of what's at stake and shapes the way you report on topics like this.
Q: What was the single biggest unanticipated obstacle you had to deal with during your time in and around Arivaca while researching THE MARAUDERS? Did you ever reach a point at which you felt you might have to give up on the idea of doing this story?
PS: The biggest obstacle didn't come from any person or group. Rather, the biggest obstacle came when the COVID-19 pandemic hit in early 2020. By April, I had returned to the U.S. from Greece, but traveling was largely off the table for a long time. That meant I was doing a lot of secondary research and speaking to people by phone often. It also meant I had to reconceive my original vision of the book, which would have involved a lot of time in northern Mexico. With COVID-19 spreading, I decided not to travel to Mexico and risk putting anyone at additional risk, especially migrants and refugees living in already dire conditions.
Another obstacle was getting people who held deep suspicions of the media to speak with me. And some never did. But many of them left a large mark on the internet, a trail of videos, posts and comments that painted a pretty clear picture of how they operated.
In October 2020, I finally made it back to Arizona. I stayed through the presidential elections and traveled around from Arivaca to Tucson and Phoenix. It was an interesting and strange time to visit the borderlands and elsewhere in Arizona, given that the state had a real shot of going to the Democrats (and eventually did). For Trump supporters, like some of the ranchers I spoke with, that flip was a huge concern. Meanwhile, militias saw it as an ominous development that would lead to "open borders," which, of course, the U.S. has never actually had, at least not in the way they see it.
Q: Having lived abroad for several years, did you experience any culture shock upon immersing yourself in the Southwest of America during 2018, halfway through Trump's term as President? What surprised you most about the people living in that region after being away from the U.S. for so long?
PS: More or less, I had lived consistently outside of the country for a decade straight. That meant that I focused my work, with a few exceptions, on places in Europe, the Middle East and North Africa. Watching from the outside, there was a feeling that the country was descending into fever pitch paranoia and allowing the most vacuous conspiracy theories to spread wildly and, too often, unchecked.
I was pleased to go to southern Arizona and see people fighting back against exactly that. Once I already had been there, it was also a pleasant surprise to see other journalists covering that community and their response to the militias. I think it's important for people to read those stories and to see that just about every place, no matter where, has dissenting voices and people willing to stand up against hate.
Q: Toward the end of the book, you recount the story of the absurd "Children Crying in the Desert" video that Michael "Screwy Louie" Meyer of the Veterans on Patrol militia posted online earlier this year. Reading your account, it seems impossible to believe that there will ever be a resolution of the pitched battle over this hot zone. Do you personally hold out any hope of peace prevailing? Or will domestic terrorism win out?
PS: I can't help but feel that as long as there are borders, there will be people who exploit the tragedy of people crossing those frontiers for their own ends — whether that means militias arming up or conspiracy theorists spreading deranged claims. In part, that's because borders are not just sites of violence. They aren't just places that attract violence. They are violent. They separate people from other people, communities from other communities. They also separate some people from physical safety, and that can be life or death for some.
What's important to keep in mind is that none of this is entirely new. The names, groups and details change over time, but immigration has been a focus of demagogues, conspiracy theorists and hate groups for as long as those groups have been around.
Q: You mention that seeing Arizona resident Clara Godfrey doing a television interview in 2018 is what launched your interest in this project. But you took this on as a freelance journalist. Didn't that make you more vulnerable, being out there in the field, than if a news agency had been sponsoring you?
PS: Being a freelance reporter means you often are entirely on your own. It's challenging on so many levels — in terms of support, in terms of your finances and in terms of your safety, to name just a few. But of course, being freelance also has its benefits. I wasn't required to publish short stories while I was out there researching. I could sit with the material and the stories I learned about and return them to gain a deeper understanding of what the situation was really like for the people who were living it every day. 
---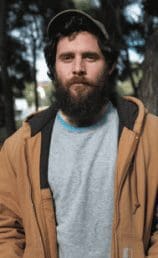 Patrick Strickland is a journalist and author from Texas who has reported from some 15 countries across Europe, the Middle East and North America. His reportage has appeared in The New York Review of Books, The Nation, The New Republic, Politico, The Guardian, Vice, In These Times and elsewhere. He is the author of THE MARAUDERS and ALERTA! ALERTA!